Printer-friendly version
Email this CRN article

TX is cool, or at least cooler, and distributors should begin stocking motherboards and cases for the new form factor beginning in the fourth quarter, according to the CRN Test Center.

What will it do for system builders?

Intel, which first introduced the new Balanced Technology Extended form factor last fall in collaboration with the industry, says it provides more balanced thermal management, reduces noise, improves system performance, increases scalability and lowers cooling costs.

System builders will also be able to build cooler-looking systems, such as cube PCs, thanks to greater design flexibility that allows for new and more efficient PC configurations.

Intel, Santa Clara, Calif., hopes that the industry will use this new system architecture to create innovative products, and the company plans to take advantage of BTX's layout and thermal benefits to integrate even more functionality into its chipsets, said a spokesperson.

One reason for the design flexibility is that BTX actually comes in three motherboard sizes, all making use of common components.

The standard BTX, at 325mm x 266mm, is designed for standard desktops, only it is slightly larger than the 305mm x 246mm ATX form factor. The layout includes a PCI Express x16 slot, two PCI Express slots and four 32-bit PCI slots. The slightly larger size should enable system builders to stuff a little more functionality into the systems.

"When the socket 478 processor and ATX boards were originally designed, they had no idea of the types of technologies that would be implemented in the future: USB, IEEE, digital audio, [Serial] ATA, etc.," said Daniel Hodkinson, desktop product manager at Seneca Data, a system builder in Syracuse, N.Y. "With the release of BTX, all of these technologies will be taken into account, as well as leaving room for future technologies."

The two other sizes include the microBTX at 264mm x 266mm and the picoBTX at 203mm x 266mm, which are intended for more compact systems.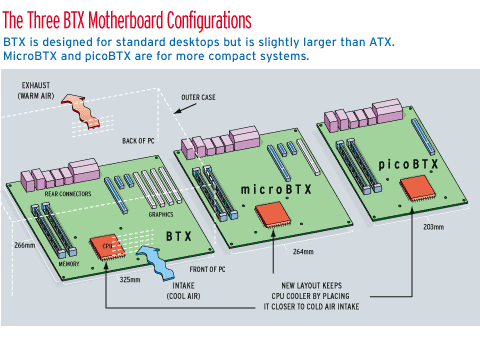 While BTX motherboards have the same power supply connects as ATX, system builders can expect a demise of legacy parallel and serial ports. BTX expands the available rear-panel area, adding flexibility to allow for integration of new and legacy I/O ports as needed.
The biggest issue facing system designers today, however, is heat, due to the high-performance processors, graphics cards and other devices that populate motherboards. And that is the biggest issue BTX was designed to solve, system builders say.
"Today's design was never intended to handle the heat and airflow that CPUs like [Intel's] Prescott need and do the job quietly," said Dominic Daninger, vice president of engineering at Reason, a system builder in Minneapolis.
Hodkinson agreed: "It has become a necessity to develop a system design which is capable of handling the ever-increasing power consumption and thermal demands."
The new design should help. The layout increases airflow to the hottest components for better management of thermal dynamics inside the case.
The layout is based on the in-line principle, which ensures that air can flow through the PC case from front to back. For example, the processor socket has been moved to the front. This allows for cool air to be drawn in from the front of the PC through the processor heatsink and then blown out of the case by a fan. The in-line principle also decreases air turbulence, which lowers the noise level.
Intel says providing low-temperature air at high velocity to the high-power components, including the processor, chipset and graphics cards, will help system builders save money on heatsink and other cooling devices. Intel also says the increased airflow will help improve voltage regulation and socket capability.
But it is not a cure-all. "BTX seems to have addressed the goal of cooling the processor," said Rich Dodds, senior manager of desktop product marketing at Hewlett-Packard, Palo Alto, Calif. "The jury is still out on the other system-level components, including the hard drive and power supply."
Quieter, cooler and smaller systems could be a boon for some applications where space is at a premium and noise is an inhibiting factor, such as home entertainment environments.
"This will add to the facilitation of the digital home concept," said Michael Schwab, vice president of purchasing at D&H Distributing, Harrisburg, Pa.
D&H, which is aggressively targeting digital convergence markets, plans to begin stocking BTX components by the end of this quarter with greater availability by the first quarter of next year. Intel says it was hoping some system builders would begin offering BTX systems by the fourth quarter.
Seneca Data, for one, expects to offer a system in the coming quarter that makes use of the microBTX design, but expects there will be a gradual migration before BTX becomes mainstream. "However, where I do anticipate [seeing] rapid changes in our system design will be with the introduction of the picoBTX systems," Hodkinson said.
Schwab agreed that it will take time for the industry to transition to the new form factor, but added: "The industry has been down this road in the past, for example in the AT to ATX form-factor conversion, and has been able to adapt with admirable speed and efficiency."
With all the advantages that the new motherboards and cases will bring, as well as the added opportunity to customize systems for niche applications, custom-system builders should have plenty of incentive to embrace BTX sooner rather than later.


 Published for the Week Of October 4, 2004
Printer-friendly version
Email this CRN article