Printer-friendly version
Email this CRN article
Santa Clara, Calif.- based Intel last month released two new, energy-efficient, low-voltage 45 nanometer (nm) quad-core processors into its arsenal: the 2.50GHz Xeon L5420 and the 2.33GHz Xeon L5410, both with 12 MB of on-die cache.
The Test Center compared the new, 45nm second-generation Xeon L5420 to last year's 65nm first-generation Xeon L5335 to see if it lived up to Intel's claims of performance boost with the same power consumption. Both processors are specified to run at 50 watts, or 12.5 watts per core, each.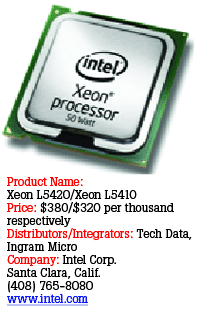 The Test Center's test bed included two, identical CPUs—one built with Xeon L5420s, the other built with the older Xeon L5335s. The Test Center's benchmarking tool of choice was Primate Labs Geekbench 2.0 running on the Windows 2008 Server Enterprise platform.
First up was last year's Xeon L5335 with a total Geekbench score of 5,308. During testing, total power draw fluctuated between 288 and 314 watts, with peaks as high as 343 watts.
The Xeon L5420 had a total Geekbench score of 5,446 with power draw varying from 268 to 300 watts, peaking at 321 watts. When idle, the L5335 drew 276 watts; and the L5420, 261 watts. Intel specifications rate the CPU's idle draw at 12 watts, per processor.
Priced respectively at $380 and $320 each per thousand units, the L5420 and L5410 are designed to optimize space, they don't generate as much heat and the processors are also easier to cool.
The new CPU series is socket compatible with existing quad-core and dual-core Xeon 5x00 processor-based platforms and should be considered both for businesses looking to upgrade, in addition to those starting from scratch.
Printer-friendly version
Email this CRN article