Devices appeal to customers in public safety, manufacturing, warehousing and logistics niches
Printer-friendly version
Email this CRN article
Solution providers are finding that tablet PCs with ruggedized features are increasingly attractive to customers in vertical markets such as public safety, manufacturing, warehousing and logistics and health care.
Mapping Solutions, a solution provider and application developer in Oregon City, Ore., builds turnkey offerings aimed at the public safety market that combine rugged systems with its mapping applications. Mike Collins, director of sales and marketing at Mapping Solutions, said that while some customers seeking mobile solutions might consider PDAs, the larger screen real estate on tablet PCs makes them a better fit for graphics-intensive applications.
"PDAs are small, but try to view that small screen. That's why I believe there's a market for tablet PCs with larger screens and full PC capabilities," Collins said.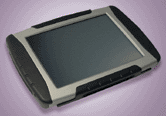 JLT's G-force 850.
New products from Hewlett-Packard and JLT Mobile Computers are aimed at meeting the needs of vertical-market customers.
HP began shipping in April its first rugged unit, the HP Tablet PC tr3000. For the past three years, HP had been reselling an offering from tablet PC vendor Itronix that carried the Itronix brand name.
The tr3000 weighs 3.7 pounds and includes an 8.4-inch outdoor transmissive touch screen designed for easier viewing in bright sunlight. It runs Windows XP Tablet PC Edition on a 933MHz ultra-low-voltage mobile Intel Pentium III processor and can withstand a 3-foot drop. The tr3000 also includes integrated wireless capabilities and carries an estimated street price of $3,449.
Ben Thacker, manager of the Mobile Computing Global Business Unit at HP, Palo Alto, Calif., said he expects the majority of tr3000 sales to come through HP channel partners.
Citing research from Venture Development, Thacker said the rugged tablet PC market is growing at 9 percent year over year.
There's a huge opportunity for solution providers to offer mobile solutions that help customers introduce field-force automation and the productivity improvements that come with it, Thacker said. "Companies are moving toward automation of their field environments, using wireless and rugged systems for things like cable installation or refrigerator repair, where these employees can be connected to the network and get job info [entered] quicker," he said. "If they can get in an extra call per day because of this technology, that translates both into money saved and money earned for the company," he said.
JLT is also venturing into the rugged tablet PC market with the G-force 850, slated to ship in volume by August. The G-force 850 will feature either a magnesium or precision-built aluminum case, replacing the plastic case featured on early production models, said Todd Einck, CEO of the Chandler, Ariz.-based vendor.
The G-force 850 includes an 8.4-inch touch screen that, unlike other tablet PCs, does not require a pen or stylus for operation.
"Other systems have a touch screen but can't be activated by an object other than the pen. Ours features a resistive touch screen that can be operated by the user's finger," Einck said.
The G-force 850's touch screen makes it more attractive in industrial environments where users often wear gloves or where pens are likely to get lost, said Dan Freeman, owner of DS Freeman, a solution provider in Half Moon Bay, Calif., that focuses on vertical markets such as public safety and utilities.
Weighing less than 3.5 pounds, JLT's G-force 850 runs Windows XP Tablet PC edition on Transmeta processors with speeds of up to 800MHz. Priced at $4,000, the unit provides up to eight hours of battery life and can sustain up to a 4-foot drop, Einck said.
Printer-friendly version
Email this CRN article