Printer-friendly version
Email this CRN article

mall businesses worried about the pitfalls of being connected are turning to their solution providers for answers. And more and more of those solutions providers are turning to St. Bernard Software. The San Diego vendor relies on nearly 200 channel partners to sell its iPrism Web-site access-control appliance and brand-new ePrism appliance for filtering spam and e-mail-borne viruses. According to CEO John Jones, the channel accounts for 70 percent of St. Bernard's business.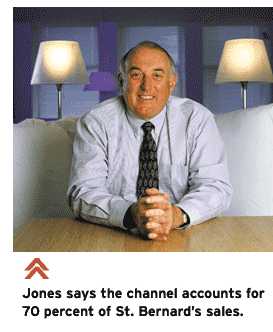 Alliance Computer Technologies, Citrus Heights, N.J., joined St. Bernard's channel network only four months ago and already has taken in revenue of nearly $40,000 from the two appliances, said Rich Wentz, network services account manager.
"A lot of my clients, especially the small medical practices, depend on controlling costs," Wentz said. "These St. Bernard appliances are fantastic because updates are downloaded automatically, so I don't have to send a technician to service the products."
But that doesn't mean Alliance's revenue is dropping. What it's losing in billable technician time, it's gaining in renewal fees, he said.
Jones said, "iPrism in particular has a large subscription component, since it includes a database of continually updated Web sites that partners use to set Internet access policy.
"As a result, a typical iPrism costs $7,000, and the renewal price after the first year is about 70 percent of that price, or $5,000. That's an annuity flow for partners," he said.
At Alliance, Wentz said he's receiving 25 to 30 margin points from sales, and about 15 to 20 points from renewals. "We put the appliance on prospect's sites for two weeks, show them how much money they're losing from employees surfing the Web, and it blows their minds," Wentz said.

 Published for the Week Of August 16, 2004
Printer-friendly version
Email this CRN article