Printer-friendly version
Email this CRN article
MANAGED SERVICES
If you thought managed services were big in 2005, just wait until 2006.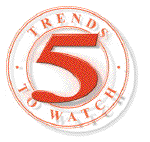 Determined to optimize IT spending in the new year, business customers are ready to gobble up managed services ranging from software delivery and patch management to remote monitoring and complete IT infrastructure support.
MSP platform vendors such as SilverBack Technologies, N-able Technologies, Cittio, Kaseya and a slew of others have simplified their products for midmarket companies. And solution providers are honing creative ways to expand profitability by adding leasing services and other options to their MSP offerings.
Nearly half of all companies surveyed by Forrester Research said they were interested in adding managed software delivery or antivirus services. Thirty-two percent expressed interest in remote network monitoring and server support, and 31 percent were ready to plug into remote help desks.
With more companies trusting hosted applications such as Salesforce.com&'s CRM offering and with Microsoft and distributors such as Ingram Micro getting into the MSP game, the soil is fertile for a booming 2006.
The entry of SMBs into the market for managed services has lit a fire underneath it, said Skip Tappen, vice president and general manager of managed services at Netivity Solutions, a full-service VAR in Waltham, Mass. Tappen has seen 30 percent growth in MSP revenue per quarter over the past two quarters alone. "My gut says MSP growth is a long-term trend that won&'t slow down for quite a while," he said.
-- Dan Neel
VENDOR LOYALTY
The channel faces a loyalty litmus test in 2006.
Couched in terms of driving increased attach rates, Hewlett-Packard&'s new president and CEO, Mark Hurd, startled the channel when he vowed to exercise an "iron fist" in teaming with solution providers.
Hurd also told institutional investors at the Citigroup Global Technology Conference in New York that HP would "play twice as hard" with its most exclusive partners. But he warned: "To people who don&'t [want to play with us], we are going to get them out of here."
Hurd&'s comments set off a debate within the channel that is sure to reverberate among solution providers and competitors throughout 2006: What are the risks and benefits of aligning closely with a single vendor?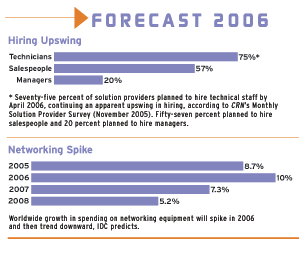 IBM, for one, quickly responded with a contrary approach, saying the company welcomes solution providers that sell competing brands and sees making inroads into competitors&' solution providers as a way to grow market share.
EMC also may be forced to respond to HP&'s loyalty push. Part of HP&'s loyalty strategy calls for increased attach rates of HP products, and a particular target are deals that go out with HP servers and EMC storage.
The question that remains is whether HP&'s loyalty push will result in greater business for both solution providers and HP and whether other vendors will jump on the loyalty bandwagon in 2006.
Some HP partners applaud the strategy.
"It&'s never made sense to me that a partner who is loyal and stood the test of time doesn&'t get more support from a vendor," said Craig Harper, president of Lilien Systems, an HP solution provider in Larkspur, Calif.
-- Craig Zarley
SOFTWARE AS A SERVICE
The notion of software as a service is hardly new. But it hit the industry like a gale-force wind last year and will likely buffet it through the next.
SaaS is the notion that software is no longer a diskette deliverable but a utility to be turned on, used and paid for along the way. Poster children for SaaS include Webex, Salesforce.com and Google, all relatively new, Internet-rooted babies. And none of them ship diskettes.
Industry workhorses such as IBM and Microsoft are now struggling to be SaaS savvy. Microsoft has tried to move to a subscription model for years and now feels increased pressure to do so. Chairman Bill Gates even hosted a big shindig in San Francisco to pitch Microsoft&'s SaaS strategy.
While some believe SaaS poses a disintermediation threat to the channel,
others wave off that thought. "Even when you do a large license transaction, it&'s so heavily discounted that you end up with maybe 2 or 3 points, said Scott Jenkins, CEO of The EBS Group, a Lenexa, Kan.-based Oracle partner. "With SaaS you can see 30, 40, 50 points and recurring revenue."
SaaS, if properly implemented, parses out costs in a predictable and palatable manner as opposed to a model where a company updates its software yearly. "Many companies don&'t want to invest in all this licensing and manage all these updates and patches," Jenkins said. "They have skill gaps. There are enormous costs there despite all the self-management features software companies hype."
-- Barbara Darrow
MOBILE APPLICATION DEVELOPMENT
Stronger security, faster wireless networks and more powerful development tools will contribute to the steady mobilization of back-office enterprise applications in the coming year.
The mobile middleware that connects workers in the field with corporate applications has passed the half-billion-dollar mark, according to research firm IDC, which predicts this will increase to $1.4 billion by 2009. Integrators that develop mobile middleware report strong interest in sales-force-automation applications, which are designed to link workers in the field with back-end systems.
Joe Adams, senior consultant at CompuCom, Dallas, says companies want to ensure the security of the corporate data that&'s being pushed out to handhelds. "People want secure transport that is trustworthy and has features such as remote management and the ability to wipe data from devices if they&'re lost," he said.
Better software tools are also fueling the acceleration of mobile applications. Research In Motion&'s Mobile Data System is quickly gaining popularity with developers who want to incorporate Web services functionality into their wireless apps, said David Bean, president and CEO of eAccess Solutions, Palatine, Ill. Crisis management is also key. "These programs provide a way for companies to give workers in remote offices access to corporate policies covering emergency situations, and also can keep lines of communication open between key decision makers," he said.
-- Kevin McLaughlin
NATIONAL SERVICE NETWORKS
If you are providing services for your own customers, you can provide them for other solution providers&' customers, too, thanks to the advent of national service networks.
ComputerRepair.com, Ingram Micro Service Network, Coast Solutions Group, 1NService and others, many working in conjunction with distributors, have enlisted the ranks of thousands of solution providers to create national organizations with the goal of leveraging each member&'s IT bench strengths to fulfill end users&' needs.
For example, ComputerRepair.com&'s network of 11,000 IT technicians covers 100 percent of U.S. ZIP codes, said Jeff Leventhal, president and CEO of the New York-based company. "Having someone in a ZIP code is one thing, but having every skill set in every ZIP code is another. We have depth and geography for any solution that a VAR might need," he said.
Need a Cisco Systems engineer across the country for one project? No problem. Need a storage specialist crosstown for a couple of hours? Done.
Most recently, Coast Solutions Group created 40 packaged services that its 110 partners can deliver even if they do not have the sales or technical talent on staff, said Paul Freeman, president of Coast Solutions Group, Irvine, Calif.
The networks bring in more billable hours as well as expand solution providers&' technical and geographic reach, executives said. "It potentially has the ability to be like another eBay for services. This goes way beyond break/fix and into real solutions-oriented value-add," said Kash Mahna, general manager of Computer Systems and Methods, a Somerville, N.J.-based solution provider.
-- Scott Campbell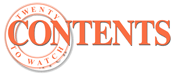 Printer-friendly version
Email this CRN article