Many of 2005's 20-To-Watch selections are still awaiting their breakthrough year, while other candidates hit the target
Printer-friendly version
Email this CRN article
One thing I have vowed to do a better job of during 2006 is returning to issues we&'ve explored and offering up some perspective on where we&'ve missed or hit the mark. What better place to start than a little informal grading of last year&'s 20 To Watch project?
In 2005, the five technologies we picked were composite applications, midmarket SANs, mesh networks and WiMax, rich site summary and the data center. Of these, mesh networks turned out to be the most exciting story last year.
Consider that early last spring, networking giant Cisco Systems moved to acquire wireless mesh networking player Airespace, which had been preparing an offering. By November, the product made its debut, joining a list of offerings from the likes of BelAir, Firetide, Nortel Networks and Tropos. Cisco&'s product line, dubbed Aironet, is priced starting at $3,999 depending on its feature set and where it&'s going to be mounted (rooftop or pole).
The market, in part, benefited from the buzz around cities such as Philadelphia dabbling with the concept of providing local wireless service. In-Stat this fall projected that the segment would reach $974.3 million in revenue by 2009, a far cry from the $33.5 million recorded for 2004.
To be honest, many of our other technology bets for the beginning of last year are still emerging themes right now, especially virtualization, which stands to play a role in the managed services movement, and the discussions around composite applications, which will be resuscitated as Microsoft prepares to unfurl its applications portfolio as services offerings.
Unquestionably, we called the two largest channel trends of last year: the adoption of managed services strategies and the practice of VARs selling to or partnering with their kin.
 

>> We called two of the biggest channel trends last year:
managed services and VAR-to-VAR movement.


 
Truth be told, the concept of managed services isn&'t all that revolutionary. In fact, many solution providers already structure their maintenance of client technologies in this manner, providing ongoing management of networks, security patches and the like on a scheduled, predictable basis. The thing that makes this current wave all the more exciting and different, however, is the platforms emerging to make remote management simpler. Look for those platforms to mature in the coming year.
In a way, managed services helped sparked the VAR-to-VAR movement, as certain solution providers chose to make larger investments and looked to their peers to help recoup the money spent.
I&'m puzzled about the abatement of dialogue around a third trend we identified last year: offshoring. Certainly, the issue isn&'t going away. In early December, for example, Microsoft Chairman Bill Gates said his company will make a staggering $1.7 billion investment in India over the next four years. And that&'s just for its own R&D facilities, not any partnerships it might forge with the local systems integration crowd there.
Our other trends were compliance and custom development. When it comes to the former, I believe confusion failed to result in major spending. As for the latter, as our Profitability Study published Oct. 31 revealed, while this area shows significant services margin potential, many solution providers turn to outside sources to get the work done.
When it comes to people, I&'ll give us an OK mark. Considering Oracle&'s Siebel move last year, we called it right when we urged the channel to watch Oracle Co-president Charles Phillips. And AMD&'s dual-core position certainly got a big boost during the year, thanks to the work of Marty Seyer. I would have liked to hear more from Motorola&'s Ed Zander, though. Sun Microsystems&' Jonathan Schwartz has plenty to provide in the coming year, Apache&'s Greg Stein played a behind-the-scenes role, and how could we have missed putting Google&'s Eric Schmidt on this list last year?
None of the five companies we chose to monitor last year really had what you could call a true breakthrough year in 2005. Here&'s the list: EMC, Juniper Networks, Acer America, Gateway and the Mozilla Foundation.
In December, Gateway lost its senior director of SMB channel sales and marketing, Tiffani Bova, as the company folded its channel sales organization into its larger sales efforts. Juniper continued to talk a good game when positioning itself as an alternative to Cisco, but the company showed signs of growing pains in November, as partners expressed their frustration over continuing churn in the vendor&'s field sales operation.
EMC&'s VMware subsidiary continued to make headlines as the virtualization movement accelerated, but its document management software arsenal still remains a niche play. As for Acer, the company continues to gain mind share in the United States with its notebooks in our Monthly Solution Provider Poll and still hopes to become the third-biggest portable provider in North America by 2007. Meanwhile, the Firefox browser developed by the Mozilla Foundation more than doubled its share of the Microsoft-dominated segment, hitting about 10 percent at the midyear point.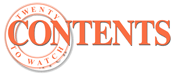 How will this year&'s predictions fare? To a large extent, it&'s up to CRN&'s readers, who will embrace or reject our choices in the course of day-to-day business realities. We ask only that you participate in the dialogue and help keep us diligent and honest with our follow-up throughout the year to come.
Printer-friendly version
Email this CRN article