Printer-friendly version
Email this CRN article
Given that the copier industry long ago set the mold for delivering hardware-as-a-service, it seems likely the converging world of printers and copiers slowly but surely will head in the same direction, many observers believe.
And while many solution providers have viewed peddling supplies for the printers they sell as often more bother than its worth, those moving toward managed services appear to be finding that folding printers into their portfolio is an easy strategy for capturing low-hanging fruit.
According to the IPED survey, 45 percent of solution providers that provide managed services were managing peripherals, making it the most frequently offered managed service after storage.
One reason may be that it isn't necessarily rocket science. In fact, it's "frighteningly easy," said Joe Oster, president of Structured Technologies, a Rochester, N.Y.-based storage integrator who added printers to his managed services offerings about six months ago and now wonders why he hadn't been doing it all along. "You can make a bundle of money doing this," he said. "Now I know why all the copier people are driving Jaguars."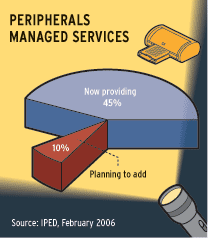 Structured Technologies takes a decidedly simple, straightforward approach. Oster buys Hewlett-Packard printers from distributor Ingram Micro, adds an HP on-site service agreement and bundles them into a lease. The customer pays a flat monthly fee for service, supplies and hardware, and Oster gets a monthly check from the leasing company, which handles the billing.

Oster doesn't charge per click, but rather estimates the amount of toner a company will use across its entire fleet of printers and then adjusts the contract on a quarterly or annual basis. Nor does he push the idea that he's going to save his clients a bundle of money. Rather, clients like the convenience and the idea of getting new printers every 36 months. "We just include it with everything else we do, and it's an easy get," he said.

That's one approach. Print Inc., a Seattle-based company that started up in 1999 specifically to bring the copier model to printers in the SMB market, takes a more comprehensive approach. It not only services printers, but also owns a remanufactured ink operation and has expanded into document management solutions. Print Inc. has about $50 million in sales, operates in 13 markets and services about 700 mostly SMB clients, according to Jim Shulkin, vice president of marketing at the company.
Shulkin said the market is still surprisingly untapped, considering many clients have long been taking a utility approach with their copiers. Many customers are still buying hardware, service and supplies from different vendors today. "If they have more than one location, they'll sometimes be dealing with 20 to 30 vendors," he said.
But he expects that to change steadily over time, particularly with major printer manufacturers pushing the model by bundling service packs and supplies and taking the complexity out of the financing. "A lot of the complexity that was there two or three years ago has been taken care of programatically by HP for smaller companies that want to get into it," he said.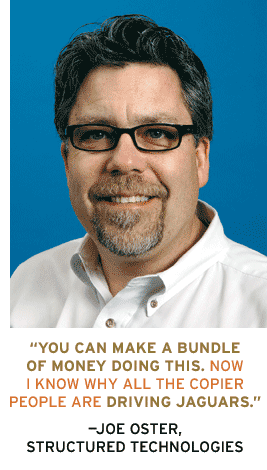 Indeed, vendors such as HP, Lexmark and Oki Data within the past few quarters have announced their own initiatives to support solution providers in bringing print managed services to SMB customers. Most of the programs start with providing tools for auditing the customer's assets and rationalizing their printer resources. Not surprisingly, the audits generally find customers can save money by buying new printers.
There may be some logic to the audits, though. Mike Kholsdorf, senior vice president of enterprise services at Ikon Office Solutions, a document imaging solution provider and big reseller of copiers and printers, said the Malvern, Pa.-based company often finds customers have been sold too many printers and can save money by deploying fewer, more cost-effective units. "The whole concept of fleet management revolves around devices that are more sophisticated and not as labor-intensive," he said.
Remote monitoring of printing devices is another rapidly developing area. While such monitoring tools have mostly afforded a way to meter usage for per-click billing purposes or to alert users that toner and paper is running low, solution providers find servicing printers still requires on-site attention. But vendors are improving the ability to drill down and read error codes and provide useful diagnostic information, Shulkin said.
"The ability to do diagnostic remotely has improved greatly," Shulkin said. "What it really does is, while there is not a lot we can do in term of fixing or solving a problem, there are things we can do at the front end to diagnose a problem and make us more efficient. To guarantee a four-hour response time, we have to be educated to the issues before we get there."
Kholsdorf said another important trend is the development of CRUs, or customer-replaceable units, that make servicing devices much less labor-intensive. "The productivity improvements from some of the redesigning of these devices is massive," he said. "What we can do is build that into our pricing and go to market with some very aggressive pricing and at the same time retain our margins."
Like the copier and printer market itself, all of these trends are converging to put printers at the vanguard of the hardware-as-a-service market. While managing printers may not be at the top of most solution providers' agendas—only 11 percent in the IPED survey said they were planning to add managed peripherals over the next 12 to 18 months—it could well become a common component of most managed services sales.

Printer-friendly version
Email this CRN article