Printer-friendly version
Email this CRN article
Applications are the lifeblood of business. How many companies could run without accounting, ERP or spreadsheets? For that reason, many businesses have been hesitant to offload apps to remote hosters or even allow third parties to monitor or manage their performance.
But that may be changing.
Solution providers say more customers now realize that allowing outside management of applications lets them redirect IT resources to things that help them compete, such as building new and better applications, or it can keep them from having to field an internal IT team at all. A remote management partner can apply lessons learned from similar implementations to cost-effectively watch, patch and manage applications, whether they are on-premises or on a host server farm.
Recent outages at hosted CRM bellwether Salesforce.com may, oddly enough, help some solution providers push application management.
"We try to use [the glitches] to our advantage. Our approach is to keep applications in your environment, [but] make sure they're solid, patched, secure and optimized," said Mark Bakken, CEO of Bedrock Managed Services and Consulting, Neenah, Wis. Bedrock offers four tiers of managed infrastructure services to customers and teams with applications partners to offer managed solutions.
Wilke/Thornton, a managed service pioneer using Progress Software's database and tools, gives customers the option of running its contact management software in-house and having it remotely managed, having it hosted outright or having it served on demand.
Dave Ditmars, marketing director at the Dublin, Ohio-based company, estimated that 30 percent of the solution provider's business is now on-demand, with that model gaining momentum. "Prospects see the advantages. It reduces up-front risk and cost," he said. "Over a three- to five-year period, the cost of this may be close to the same [as traditional licensing], but with on-demand, the customer doesn't have to shoulder the purchase of new hardware."
Bakken and others said the flexibility of the managed services model lends itself to a tiered set of partners. Infrastructure players such as Bedrock make sure the trains run well and on time, while application-oriented solution providers such as IBIS, Atlanta, do deep needs assessment and application customization.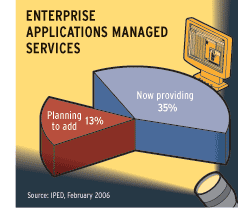 IBIS manages Great Plains and Microsoft CRM applications that may be hosted by the customer, by IBIS or by a third-party such as NaviSite.
Andy Vabulas, CEO of IBIS, said new remote management tools and near-ubiquitous broadband make remote monitoring and maintenance a safe and efficient bet. For IBIS, managed services fit into an overall portfolio of software sales, consulting and maintenance.
A solution provider's biggest worry moving into applications management is often coming up with pricing that keeps it competitive as well as profitable. For that reason, most pricing includes a consultative component typically done in advance, plus an ongoing subscription-based fee for keeping a proactive eye on deployed apps.
"We'll do the up-front consulting and integration and customization and then take over the care and feeding. But I want to be clear: Care and feeding does not include additional reporting and functions. Customers pay for that," Vabulas said.
He and others say many customers are much more comfortable now with outsourcing management. "Even companies with IT [staff] want to outsource as much as possible so their own IT guys can focus on making money," Vabulas said.
Carolina Ingredients, Pineville, N.C., outsourced its apps management to IBIS because "it's a heck of a lot easier," said Martin Monahan, general manager of the spice distributor. "We're not in the software or hardware business. We're in the ingredients business. It's expertise we don't have, and quite honestly, we're not of a size to invest capital to staff people like that."
Among the utility companies running financial, billing and e-commerce applications from Professional Computer Systems, Denison, Iowa, are a number of smaller companies that do not have IT staff. "They don't want to manage this stuff," CEO Kim Ingerslev said. "We have everything that's required—including backup, disaster recovery and 24x7 operation."
Midsize companies with their own IT staffs still typically want to take ownership of data, whether or not they manage the apps, while smaller companies are increasingly willing to offload not just management, but the applications themselves, Ingerslev said.
"In many big companies, any end-user department who wants freedom from IT involvement looks to on-demand solutions," Ditmars said. "The other [motivation] is flexibility in scaling up or down as demand fluctuates."
For such reasons, applications management is growing, though not as as fast as storage, security and desktop management, according to the IPED survey. About 35 percent of the managed service providers reported offering managed applications services, while another 13 percent said they planned to add it to their portfolios over the next 12 to 18 months.


Printer-friendly version
Email this CRN article