Printer-friendly version
Email this CRN article
Even before the dot-com implosion, storage service providers were springing into existence, trying to convince enterprises to leave the management and backup of precious corporate data in their expert hands.
Because of the newness of the concept and the heavy investment required, many of those companies lasted about as long as Webvan.com. But their vision lives on today in the growing variety of managed storage service providers, some of which specialize in the business and others that partner with a variety of companies to deliver storage services to customers.
In the IPED survey, storage topped the list as the most frequently offered managed service today. Nearly 53 percent of those offering managed services reported offering storage services. And it will likely remain on top. Another 26 percent said they planned to add storage to their portfolios within the next 12 to 18 months, also making storage the third fastest-growing area.
Unlike their ancestors, today's managed storage service providers are viable businesses, said Walt Hinton, CTO of Incentra, Boulder, Colo. Back when his company started as Managed Services Inc., the model was to buy a big EMC array, move it into an Exodus data center and wait for all the dot-com companies to move their data over. "But that was capital-intensive," Hinton said. "And every year, the cost of EMC technology fell. That, with the collapse of the dot-coms, killed that model."
The new opportunity is to go to a customer and act as a trusted adviser, Hinton said. After changing its name, Incentra acquired two solution providers and a software developer and began offering a full range of IT services.
While some customers let Incentra host and manage their primary data, the sweet spot is in managing the backups of that data. "Data protection is voodoo to most businesses," Hinton said. "We bring structure. We can go into a shop, put down a backup footprint. We go to the next shop, use the same footprint. So we can afford to do it cheaper than any customer. They can't afford a network operating center or an 18-man IT staff."
While Incentra started out focused on managed storage services, many solution providers have added storage as a service to their offerings. PeakData, Boulder, Colo., for instance, turned its data migration expertise into a service to help customers consolidate off-site data onto fewer, larger tapes while ensuring availability and regulatory compliance, said CarrieAnne Curtis, vice president and general manager of professional services at PeakData.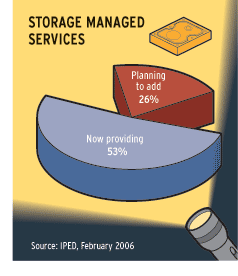 Dimension Data has moved into providing services for the storage equipment it sells, often partnering with SunGard for the hosting architecture, said Rich Schofield, North American managed services director at the Hauppauge, N.Y.-based company. Its services include storage infrastructure monitoring, first-response and troubleshooting and periodic reviews of disk optimization, Schofield said. "Most customers don't have enough storage knowledge or time to manage storage," he said.
Another VAR, Wenzel Data, Stillwater, Minn., last year formed a separate managed storage service provider called Storage Elements that specializes in data backup for companies with 50 to 500 users. Data backup as a service is a great way to enter the managed storage services business because even smaller companies such as architects, lawyers and educational institutions have multiple sites that need to be protected, said President and CEO Brad Wenzel.
And unlike data replication or mirroring, backup as a service is not capital-intensive or bandwidth-intensive. "I only do backups, so there [are] no servers, storage or switches to buy and no agents to purchase," he said. "We are a true utility. You can have 500 Gbytes across 15 sites with four instances of Oracle. We don't care."
Full-service solution provider Logicalis has added managed systems, database, networking and storage services to its line card. Logicalis can host a customer's primary storage, but usually manages it in hosted data centers, said Kevin Clark, business developer at the Cincinnati-based company. Logicalis is now developing new services, such as managing e-mail archives on EMC Centera compliance appliances.
Some solution providers prefer to resell other providers' managed storage services. Denver-based Advanced Systems Group, for instance, does not provide such services directly. "If it's a disaster recovery or business continuity call, we help them set up with a [co-location] service," CTO Mark Teter said. "We hand it off and get an uplift from the referral. It's not a primary business for us, just helping a customer fill its needs."
With the multitude of approaches to this market, strong ROI and the variety of partnering opportunities, managed storage services is emerging as a multitiered opportunity for the channel.


Printer-friendly version
Email this CRN article