Champ: Cisco Systems
Printer-friendly version
Email this CRN article
Cisco Systems rode to a decisive victory in the small-business networking hardware category thanks to its secure, reliable products and a channel program that lets partners grow their services businesses.
The San Jose, Calif.-based vendor beat the competition with an overall Channel Champions rating of 76.1. Cisco's Linksys division finished second with 74.8, followed by D-Link Systems at 74.3, Netgear at 73.4 and 3Com at 73.1.
In channel criteria, Cisco ranked first in five of nine areas, surpassing competitors by 4.3 points in service revenue and technical education ratings.
Jeff Roback, president of Praxis Computing, Los Angeles, said Cisco makes a serious effort to provide training around the value-added aspects of its equipment. "Cisco offers premium products that cost more but also give you higher performance, but there's no reason for the customer to pay more if they don't understand how to use the advanced features," he said.
Cisco positions its solutions for the SMB market so that partners can provide life-cycle services, said Lauren Ventura, senior director of worldwide commercial marketing at Cisco. "Partners can add value on top of our solution in the form of audits, assessments and managed services, which enables them to walk in with a complete offering," she said.
But despite Cisco's strong channel program rating, friction still exists between the vendor's field-sales team, as indicated by the vendor's fourth-place showing in the area of channel conflict. "Cisco's field-sales force tends to pick one or two big partners such as SBC and shove product deals through them, and they lose focus on some of the value-added parts of the deal," one partner said. "I don't see how that is any different from selling direct."
In technology criteria, Cisco ranked first in four of five areas, racking up a 5.7-point margin of victory in product reliability and a 4.3-point margin in security.
Cisco's Integrated Services Router, combining wireless, VoIP, Power-over-Ethernet and security in a single product, is a shining example of how Cisco has built security into the fabric of its products, said Gia McNutt, CEO of Special Order Systems, a solution provider in Campbell, Calif.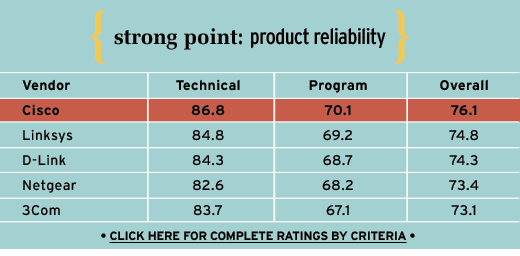 Printer-friendly version
Email this CRN article