System builders are pinning their hopes on the 'Verified By Intel' program. Now Intel needs to deliver.
Printer-friendly version
Email this CRN article
It might just be the whitebook's BEST HOPE.
After what some system builders charge has been several years of neglect at the hands of component manufacturers, whitebooks are finally getting some backup in the form of Intel's "Verified By Intel" program.
This is Intel's second go at attempting to develop traction for a custom notebook market that has suffered from service and pricing issues. While notebook sales have boomed, whitebooks have not.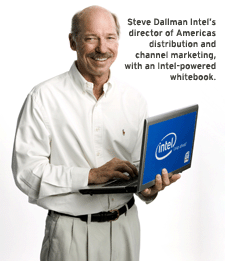 "We've been promised we can build our own notebooks by Intel for three years," said Tom Derosier, co-owner of CPU Guys, a solution provider and system builder in Hanson, Mass. "But it never got down to the channel."
System builders are hopeful this go-around will address key issues, but some caution this could be the whitebook's last chance to gain credibility with the channel. If Intel fails, "they run the risk that the system builder community loses the ability to differentiate themselves and will need to look to a new value-add," said Dan Schwab, vice president of marketing at D&H Distributing, Harrisburg, Pa. "Hardware is the only way for the system builder community to differentiate itself."
The stakes are high for both Intel and custom-system builders. Intel launched the Verified By Intel, or VBI, initiative in March and promised broad reinforcements in the form of first-level support, rebates for custom-system builders and, most importantly, a good supply of quality, standardized components such as power supplies, batteries and LCD panels.
As can happen in aggressive campaigns, some of the reinforcements were late in arriving. Original design manufacturers (ODMs) failed to deliver an adequate supply of VBI components during the program's early months. Steve Dallman, Intel's director of Americas distribution and channel marketing, acknowledged the problem in August but said Intel, which is acting as a kind of aggregator for VBI components, began shipping additional supply to its North American distributors ASI, Synnex, D&H and Tech Data Canada.
And now, more than six months after Intel's enthusiastic VBI launch, the chip maker believes it finally has all the required elements for a comeback attempt. VBI is an important initiative for Santa Clara, Calif.-based Intel, which derives about 30 percent of its revenue from the channel, and may be even more important for custom-system solution providers.
Custom desktops are still strong sellers for many of these companies, but the market—both business and consumer—has been shifting to mobile systems. Currently only about 18 percent of solution providers offer whitebooks, according to CRN's latest Solution Provider Survey in July, and fewer still build their own.
The reasons why whitebooks have failed to gain traction are many. But one important reason, a variety of channel executives believe, is that ODMs have been reluctant to support the whitebook channel, either because they were more focused on high-volume OEMs or because they did not want to anger their big OEM customers, or both.
Some of the executives, speaking on condition of anonymity, said ODMs have been shipping substandard parts for their whitebook offerings, saving their best parts for high-volume OEM clients. One executive who has worked with ODM suppliers claimed some ODMs were using LCD panels that had failed quality testing for branded models in the whitebooks.
Whether a system builder was having problems with quality or not, most report some level of service issues. With whitebooks, system builders have not been able to service the units in-house, but are required to return them to the supplier and hope for the best.
Whitebook makers have "traditionally been very poor at supporting the channel," said Todd Swank, vice president of marketing at Nor-Tech, a system builder in Burnsville, Minn.
CRN contacted the three main ODMs participating in VBI—Asustek, Quanta and Compal—but they declined to comment. But one executive with a large Taiwanese contract manufacturing firm, who asked not to be identified for fear of offending large OEM customers, said he did not think the VBI program would work.
"Intel wants to get whitebooks to the channel at the same price as the OEM price, but I doubt that will happen," the executive said. "Name-brand vendors account for 50 percent of desktop PC sales and 80 percent of notebook PC sales."
By working with ODMs, Intel plans to attack the whitebook dilemma on a variety of fronts.
Making service parts available to the channel has been a critical issue. To ensure parts are available for service, Intel worked with the ODMs to develop what it calls common building blocks—a standardized set of parts for whitebooks that include power supplies, batteries, LCD screens and drives. The idea is to remove the proprietary nature of these components so that solution providers can easily source the parts when servicing customers.
Swank noted that when Nor-Tech gets orders for replacement batteries for older whitebooks that went out to just a few customers, it has to work to find parts, while batteries for other models sit unsold on the shelf. With VBI, batteries work across the span of VBI chassis, regardless of manufacturer, and are available to solution providers, and ultimately their customers, from a variety of suppliers.
"Serviceability and availability of spare parts has helped out greatly," said Kevin Conley, president and CEO of Seneca Data, Syracuse, N.Y., in a recent interview. Conley said that even common problems—such as when a customer leaves for a business trip but forgets to bring a power supply—are more easily handled thanks to the common building blocks.
"With VBI, you can go to any podunk town and find a reseller that sells VBI product and chances are you can find an extra battery and get an extra AC adapter," he said. "You could really get your notebook fixed if that reseller was big enough."
Try that with Dell. Or most any other brand. A customer of CPU Guys bought a $2,800 Acer notebook and a week later dropped it, shattering the screen. "It took time to replace. That's the case with any vendor," Derosier said. "But with Verified By Intel, he could have walked out the next day with a new screen."
To further address serviceability, Intel implemented first-level support for VBI notebooks—promising to take over the job of communicating with partners about any problems that arise with VBI whitebooks. Dallman further said that as part of that service, Intel will facilitate the shipment of a replacement unit, when warranted.
The program should not only reassure end-user customers on the availability of service parts, but also in other ways, according to Dallman. VBI certification will ensure notebooks meet Intel quality standards, and Intel is promising validated platforms will continue to be made for at least a year to satisfy business customers desiring platform stability.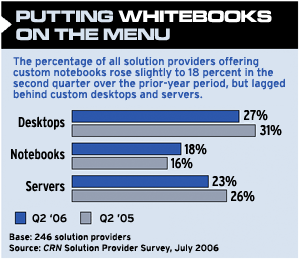 Another issue is price-competitiveness. In CRN's quarterly Solution Provider Surveys, solution providers most frequently cite custom systems as the most profitable desktops and servers, but that has not been the case with whitebooks. In the second quarter, only 15 percent cited whitebooks as their most profitable portable brand, compared with 18 percent for Hewlett-Packard and 24 percent for Dell.
The key question is whether VBI components can be competitively priced, Schwab said. In the past, distributors needed to stock a large number of components for different whitebook models, while VBI components work with different models. "This makes availability stronger and more price-competitive," he said.
Seneca Data's whitebook sales, as with many whitebook system builders, tend to slant toward the high end of the market, where Intel first aimed the models. But many solution providers complain that whitebooks have been too high in price to compete against the branded manufacturers in the mainstream market. For many small-business customers, the sweet spot is $600 to $800, they say.
Intel launched VBI with its Core Duo chips, its newest processors available at the time, and later expanded the options to include the Core 2 Duo models, released in August. But more recently, Dallman confirmed, Intel added VBI models using Intel's older and less expensive Celeron M processors to offer a "value" price point.
Intel also extended a rebate it had initially offered at launch of the program through the end of September. Other vendors, such as Microsoft and Seagate, also have been offering discounts and rebates in conjunction with the whitebook program to help spur sales.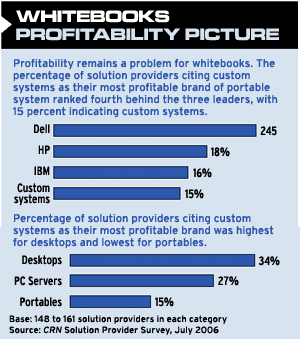 Still, there remains a price-point issue. Equus Computer Systems, a Minneapolis-based system builder, is offering VBI notebooks in addition to existing whitebook SKUs from vendors Uniwell and Twinhead. At the moment, the non-VBI SKUs still offer better value, said Joe Toste, vice president of marketing at Equus.
But Toste expects that to change as VBI volume grows. "As VBI catches on, [Uniwell and Twinhead] will need to offer more aggressive pricing and new SKUs," Toste said. "And they will continue to focus on niche markets. Twinhead has nice rugged SKUs, while Uniwell is more focused on thin and light. But they won't go away. Whitebooks are, what, 2 percent of the market? VBI will make the market bigger for everyone."
While Toste said there well may be conflicts between ODMs and their tier-one customers, he believes VBI ODMs have no incentive to use lower-quality components. "The reality is, ODMs make more money on whitebooks. Margins are higher. The channel can take advantage of aggregate negotiations."
D&H's Schwab likewise said the ODM vendors have a strong incentive to make the program work in order to avoid having their top five customers dictating terms. "The ODMs will see it's much better to have thousands of customers than five customers," he said.
He also said that because Intel is on the hook for supporting the new whitebooks, it is working with ODMs to ensure they meet quality standards. "To go for low price with less-quality parts is a shortsighted decision," he said.
Though many in the channel think the program will ultimately be successful, it will take some time to develop legs. At the program's launch, executives said they were hoping to boost channel whitebook sales from about 3 percent of the market to from 10 percent to 30 percent, depending on which channel executive was speaking.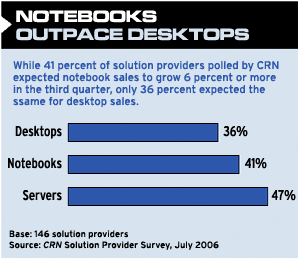 System builders said a more realistic projection would be to see sales start to pick up early next year. "With any program of this size you are probably looking at them to start ramping up next year," Conley said.
Another test for the VBI notebooks will be the ability of solution providers to offer custom-configured solutions. The addition of new VBI platforms, processors and other options will help. The program also enables customized face plates, or skins. Seneca Data is using a VBI chassis that has an indentation to hold the skin in place, and is working with a local company to print custom skins for clients.
Schwab also anticipates more vendors getting on board. "Microsoft, Seagate, Kingston and so on will offer additional discounts on notebooks sold through the Verified By Intel program," he said. "I'm sure more and more third parties will also support Verified By Intel with more aggressive bundling, something we didn't have with whitebooks before."
Now that the all the VBI fortifications are in place, it's up to custom-system solution providers to defend their turf. "The desktop space is two-thirds branded, one-third white box," Schwab said. "If we can do this in the mobile space, it will be Nirvana."
But Intel is also going to need to stay on top of its ODM partners to ensure there will be an adequate supply of quality components to the frontlines. The custom-system channel's main competitive edge is its ability to deliver service, and if it can get the parts and support, it should be able to gain market acceptance for whitebooks. If the reinforcements don't arrive, though, this could be the whitebook's last stand.
JOHN LONGWELL contributed to this story.

Printer-friendly version
Email this CRN article