New West Technologies is mixing custom systems, retail solutions and mobility to drive growth
Printer-friendly version
Email this CRN article
For New West Technologies, selling mobile point-of-sale solutions to small retailers has opened up a whole range of new opportunities.
The Portland, Ore.-based solution provider expects to bring in $3 million in revenue in 2006, up from about $2 million last year, and about 40 percent of that comes from the thriving retail solution business. New West is not only a Microsoft partner, reselling the Microsoft Retail Management System platform, but it developed its own software extension to the platform that opens up the world of mobile POS solutions to smaller retailers. And that's been a hit.With Mobile POS, a local nursery is now scanning plants and processing sales on its yard, allowing the plants to be loaded directly into a customer's vehicle without the need to wheel them through a check-out register. A health food store is using handheld devices to manage inventory on its shelves, much like larger retailers. And at busy restaurants, waiters take orders on handheld devices, saving steps and serving more customers.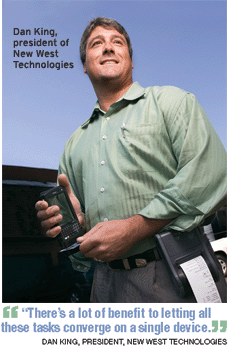 New West had been looking for ways to take mobile solutions to small retailers since 2000, but the technology has only recently caught up to the solution provider's imagination, according to Dan King, president of New West. With falling prices for mobile PC hardware and Internet access, small businesses can now take advantage of the same efficiencies as their larger competitors.
"That was a big wall there for a while and in the last couple of years we've seen all of those things fall into place," King said. "Now you've got a solution that's affordable. You can bring that capability down to the small and medium retailers."
New West, founded in 1992, began as a network infrastructure solution provider and still maintains a healthy regional infrastructure division. It also built about 1,000 custom systems last year, supporting both its networking and retail solutions.
While New West makes respectable margins on its hardware, King said the primary reason it continues to build its own systems is to control the components, ensure quality and maintain a stable platform for its solutions. "Since we're not just a box-pusher, it's not about the white box for us," he said. "We're responsible for the application layer as well."
As with many custom-system solution providers, New West recently has been building a richer mix of servers, and King attributes some of that to the growth in its mobile solutions, including its Mobile POS solution. Mobile POS has also opened up a plethora of custom-system opportunities for New West, among them handheld PCs with scanners, card readers and printers.
King said Mobile POS lets retailers conduct business in realtime, transforming retail operations in much the same way the BlackBerry is changing the way corporate workers interact with technology. Mobile devices allow owners to respond more quickly by providing faster access to business intelligence.
"The lines are really blurring between your personal and your business life, and these devices, for starters, are enabling that," he said. "And if they're done properly, there's a lot of benefit to letting all of these tasks converge on a single device."
Mobile POS enables retail employees to track inventory, conduct transactions and even swipe and process credit cards on a single device. In particular, the ability to conduct wireless credit card transactions is a major selling point for New West's Mobile POS software.
"Quite a few organizations come to us and say, 'I don't need the heavy back end; I just need to be able to authorize cards anywhere.' Our software allows anybody with a pocket PC-based phone or device to get online and accept credit cards," he said.
For customers, there are clear advantages. Realtime authorization helps keep fraud under control. Credit card companies charge less for swiped transactions than manual transactions. And enabling clerks to do transactions on the fly can speed that process, shorten lines and keep customers happier, particularly during the peak holiday sales season. "You save a tremendous amount of money when you can actually swipe a card," King said.
For such reasons, New West is also finding customers among other Microsoft Retail Management System solution providers for its Mobile POS.
Jason Bauer, a partner at Summit POS, a Sumter, S.C.-based reseller of Mobile POS, said just the ability to handle inventory is a big boon to many small merchants, including mom-and-pop outfits such as liquor stores and gift shops. He said taking inventory used to mean two days of work for some of his customers, but now with the handheld PC and Mobile POS software, one employee can do inventory in one day.
Summit POS is now negotiating a 70- to 80-device deployment with a Christian women's conference group, which plans to use the mobile devices to keep track of their merchandise, a task they were formerly doing by hand.
"The mobile solution has been out there in terms of inventory, but very few people have a true wireless POS solution," Bauer said. "I know of no other POS company in our spectrum, and I don't know of any POS solution that does what Dan's does."
Bauer also likes the price point. "They've made it affordable, so I can take it to mom-and-pops as well. A lot of people are heading this way because a lot of mom-and-pops do tent sales, or clear out their inventory in a warehouse store, so I definitely see this growing tremendously," he said.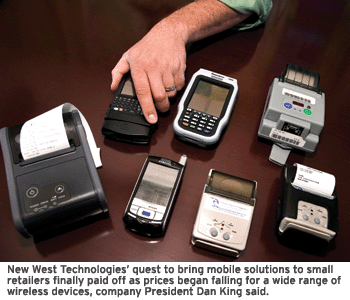 For Allied Business Solutions, based in Medford, Ore., Mobile POS is a part of every pitch the company makes to potential POS customers. Rick Morrison, owner of Allied Business, said many small businesses initially balk at the $3,000 that the mobile component adds to the system, but usually find it worth the cost once they've begun using it.
"Some of my customers actually opt out of buying it even though we put it in the quote, and then within a week or two they [change their minds]," he said. "Once they have it, it becomes one of the most important parts of their system."
Morrison also praised New West's Mobile POS as highly reliable.
"It doesn't crash. It's not buggy," he said. "It works every single time, and that really is important because if I have to go back out on a site I lose money."
Adding value to Microsoft's Retail Management System with custom software and handheld solutions has helped New West spread its wings. Looking to the future, King sees limitless possibilities for his company.
"We sit around and have a beer and we talk about the things we could do, and there's no shortage of fresh ideas.
I don't see that our core business is going to change, but we'll do more of what we're doing and we'll continue to do it better," he said.
JOHN LONGWELL contributed to this story.
Printer-friendly version
Email this CRN article