Why the bigger fish might be the best bet for managed services sales
Printer-friendly version
Email this CRN article
More MSPs are taking their services offerings upstream and more experienced service providers are finding more success than newcomers, according to a study by MSP platform vendor Nimsoft Inc., Redwood City, Calif.
About 40 percent of the survey's respondents said their managed services sales to medium and large enterprises have resulted in revenue increases of more than 25 percent over the last 18 months.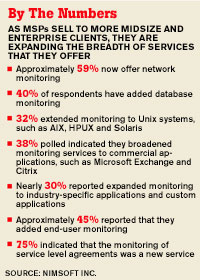 As MSPs have grown more sophisticated, they are targeting enterprises with complex IT requirements, characterized by proprietary and custom applications and a broader number of technologies, said Ken Vanderweel, director of product marketing at Nimsoft.
"We find from the survey results that the [MSPs] still have smaller SMB customers, but the growth market is really medium to large," he said.
For example, small businesses don't have a lot of requirements for network monitoring, but that's something that medium and large companies value, Vanderweel said. He noted that 59 percent of the survey's respondents now offer network monitoring in their solutions portfolios.
Other findings for MSPs offering managed services for at least five years include: 40 percent are offering database monitoring; 32 percent have extended monitoring to Unix systems; 38 percent are broadening their monitoring services to commercial applications such as Microsoft Exchange and Citrix; 30 percent are monitoring industry-specific and custom applications; 75 percent indicated that the monitoring of service-level agreements was a new service.
"This shows that a big segment of MSPs [is] maturing and SMB has become commoditized," Vanderweel said. "Those MSPs are finding growth by moving into new markets."
FusionStorm, a San Francisco-based solution provider, has found that its midmarket and enterprise clients want more managed services included in their IT spend.
"Midmarket customers want a more integrated set of services. If we're doing an implementation or a network or storage or servers, they want a managed services offering that is as broad as our professional services offerings," said Vince Conroy, CTO of FusionStorm. "Those are more complex solutions—not cookie-cutter—with more aggressive SLAs. In some cases, they have global coverage requirements."
Conroy said the economic downturn has spurred more interest in managed services among midmarket customers, but a bull market can do the same.
"In an up market, they're looking for ways to accelerate their business initiatives through outsourcing of their IT. In a down market, they want to save money, cut costs. The business needs don't go away. They look to MSPs to do what the internal staff was going to handle," Conroy said.
While there is ample opportunity in selling managed services to the midmarket, Conroy said that margins are starting to get squeezed in that customer segment too.
"A year ago, I would have said we could charge a premium. Today, margins are better than in the commoditized space, but there's downward price pressure," he said.
Nimsoft's MSPs have traditionally served a larger customer base than some other managed service platform vendors, but the vendor didn't have a strong idea of where its partners were going before the survey.
"Now we can figure out the MSPs, where they see revenue opportunity and where they're capitalizing," Vanderweel said. "As experienced MSPs, they have a point of leverage compared to fairly young MSPs."
Printer-friendly version
Email this CRN article