Solution providers devise different game plans to target the health-care market
Printer-friendly version
Email this CRN article

olution providers have taken the pulse of the health-care market and found it to be strong and steady. In formulating their strategies for penetrating this sector, some solution providers are opting to focus only on smaller facilities, such as doctor's offices and medical groups. Others have broadened their range to include sole practitioners all the way up to large health-care organizations.
Peter Burney, director of sales at Iverest, a software solution provider based in Irvine, Calif., said that in January 2003 his company jump-started an initiative to scale down its application development work for larger hospitals and health-care organizations to target doctor's offices, individual practitioners, chiropractors and other small groups.
Iverest is taking a relatively simple approach that seems to be working, Burney said. The company is in the midst of projects for about a half-dozen new clients. "We are pretty pleased, and we fully expect it to pick up," Burney said. "Right now we're working with initial clients, and we expect that work to continue through the end of this quarter."
At the moment, Iverest is offering a simple, basic portal developed internally and featuring functionality such as the ability to schedule appointments, place online prescription orders and complete new patient applications, Burney said.
"That's our initial offering. Then we take it to various levels," he said. "We can take it right into offering back-office functionality to automate a lot of the manual processes you would find in a doctor's office."
Because it's still new, there isn't yet an official name for the portal. Iverest, which also has an office in Toronto and a software development facility in India, is offering the software for $1,500 and up, including hosting and maintenance.
IT spending in doctor's offices and clinics in the United States is expected to grow 3.8 percent to $3.2 million by 2006 from $2.7 million in 2001, according to a February IDC report on the health-care market.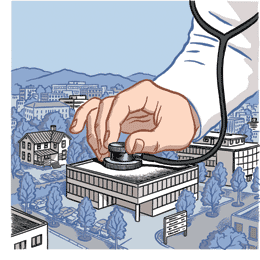 Jocelyn Young, program manager with IDC's health-care research program, said the areas Iverest is focusing on appear to be the ones that smaller doctor's offices and medical groups are interested in. Broken down, the IT needs within doctor's offices and medical groups tend to be less integrated and involve more stand-alone solutions vs. the more complex IT needs of hospitals, where about 70 percent to 80 percent of the total U.S. IT health-care dollars are spent, Young said. "What offices and clinics are really looking for is some of the more basic functionality such as document management and automation of previously manual or paper-based processes," she said.
While smaller medical groups and doctor's offices have concerns about privacy and compliance with federal laws such as the Health Insurance Portability and Accountability Act (HIPAA), hospitals represent the biggest opportunity for IT services in that area. "The number of people touching records in a doctor's office is on a smaller scale. Hospitals have a much more permeable wall, so to speak," Young said. "Most of the spending in offices and clinics is really on software and hardware, and less so on services."
Greg Sartz, president of General Networks, a network solution provider based in Windsor, Colo., said his company's two dozen or so customers range from sole practitioners to hospitals and other large health-care organizations. The main target, he said, is medical practices with at least six physicians and a total staff of about 50. "Then there's enough critical mass to afford some of the higher-end systems," Sartz said. "They may or may not have an internal IT staff, but if they do we can augment that."
General Networks' services include applications consulting and implementation, traditional network services, help desk and network management support services. The company also offers integration of legacy systems with wireless, portable computing and telephony technologies.
General Networks' pricing varies, but service plans range from an a la carte service to a multitiered monthly service, depending upon customers' needs. For instance, Gold Service, for $396 a month, includes two scheduled two-hour visits per month, discounted from the basic service rate of $110 per hour. Emergency response time for Gold Service customers is guaranteed within 24 hours.
The typical point of contact, Sartz said, is an administrative assistant or office manager. For example, the office manager of one orthopedic clinic customer presents IT proposals to the board of physician owners.
Business propositions also can be fairly complex, Sartz said. Smaller medical physicians' groups are often partnered with an outside management company that co-manages the facility. One of General Networks' surgery center customers is 40 percent owned by the local hospital, 40 percent owned by a physicians' group that practices there, and 20 percent owned by an outside management group, he said.
"Frequently, the doctors will say, 'We want something new,' and the hospital will say, 'No, we can't afford it,' " Sartz said. "Then the management company will say, 'We'll run the numbers and see if it makes sense.' "
IT discussions, Sartz said, typically start with software and move from there to include more sophisticated systems, including wireless solutions. A good lesson learned by General Networks was its decision to abandon its initial business plan to work with particular software packages geared toward different-size customers, he said.
"We found out that we were severely limiting our options to our customers because then we really were tied to one package over another," Sartz said. "By working with independent consulting partners, we were able to work together to come up with a better approach for customers."
Typically, the priorities include ease of use for doctors, back-office support functions that deal specifically with insurance reimbursement processes, efficiency and bandwidth-friendly systems. Priorities can vary, but since administrative turnover of billing staff is common, a frequent request is an electronic billing system that is easy to learn.
The biggest challenge over the past few years has been proof of return on investment, particularly with smaller offices that have tighter budgets. "If we can demonstrate ROI within 12 months, people pretty much jump at it," Sartz said. "If it's more than 12 months, people are much more hesitant. But there's still good opportunity out there."
Printer-friendly version
Email this CRN article