Printer-friendly version
Email this CRN article
While Cisco Systems executives are promoting the need for partners to stop pushing boxes and start selling solutions, the networking hardware vendor's enterprise sales organization is not getting the message, solution providers say.
As Cisco channel partners invest time and money in training their sales and engineering teams to move up the value chain and sell solutions with services wrapped around them, the company's enterprise sales organization is still focused on making its numbers by selling boxes, they say.
"The sales team is becoming more and more aggressive, and they are strong-arming us into box sales," said one Northeastern partner. "I actually had a salesperson tell me that every time I open my mouth about services I slow the deal down, so he switched the deal to a carrier," he said.
Indeed, in conversations with CRN, many Gold and Silver certified Cisco partners related
stories of Cisco sales reps out of control. All of the partners asked to remain anonymous because they feared that Cisco sales reps would retaliate if their names appeared in this story.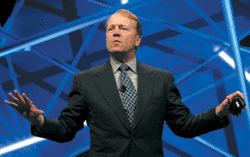 Cisco CEO John Chambers addresses attendees at last week's Partner Summit in Las Vegas.
"I know it sounds crazy, but a lot of times it feels like I'm dealing with Tony Soprano's boys," said a large Cisco Gold partner.
"The executives probably don't realize this is happening and I know it's not part of long-term goals, but there's not a lot I can do," said a California-based partner. "If I complain, the salespeople retaliate and I'm closed out of deals."
When confronted with the issue, Cisco CEO John Chambers said that Cisco's sales organization is still evolving, but that salespeople who focus on short-term goals may not have a long career at the company.
"I think the talented salespeople know how to sell systems and know how to sell business value as opposed to a box sell," Chambers said in an interview with CRN at the Cisco Partner Summit in Las Vegas last week. "If you're merely selling boxes, it might benefit you in this quarter or the next, but it will absolutely work to your detriment in the long term," he said.
"In fairness, those [partners] that effectively sell systems, solutions, etc., I think the sales force will welcome," Chambers added. "If the salesperson is focused too much on the short term, then they may have a long-term problem here at Cisco."
Cisco's sales team has always been aggressive, partners say, but the problem has increased in the past year as the company has rolled out its value engagement model, the very program designed to increase partner profitability by allowing them to sell services early in a deal.
Prior to launching the value engagement model, Cisco's enterprise sales organization would sell to clients and then instruct them to source the product from one of its channel partners. The sales process often included presales engineering and design services. The value engagement model was designed to change that by bringing a partner into a deal early on to sell those services as part of the solution.
Partners say the plan is solid and it's working in a lot of cases, but the execution is inconsistent. The problem, they say, is that the value engagement model puts all the power in the hands of the Cisco sales rep. When the Cisco sales rep buys into the plan, it works, but many enterprise sales organization reps are still in box-pusher mode, they say.
And for some, all that power has gone to their heads. One Southeastern-based partner said his sales rep is taking other Cisco partners into all of his accounts because he proposed a deal that included a security solution from a competing vendor. "We proposed a competitor's product for a very small part of a very small deal because we know that client's network and thought it was the best solution for their business, but the Cisco rep wouldn't listen," the partner said. "He is now retaliating by taking other Cisco partners into our longtime accounts and introducing them as their new Cisco partner. Our customers are calling us and asking if we're going out of business. It's payback, plain and simple."
While Chambers conceded that some of his sales force may need more education on moving from box sales to solution sales, he said partners may need to educate their sales forces as well. "If the channel partner doesn't add value and tries to sell systems in an ineffective way, then it wouldn't surprise me to see the salesperson say, 'Let's move to a box sale, as opposed to selling a system,' " he said.
Doug Dennerline, Cisco's senior vice president in charge of the enterprise sales organization, said he is committed to making his salespeople work more closely with partners to boost partner profitability. "I think we've made a lot of progress already," Dennerline said in an interview with CRN. "At the account manager level, they're not all where we'd like them to be. That's true. But the account managers that are the most successful in our company understand that it's about a partnership and [they] always have."
In fact, Dennerline said, it was he who called a meeting of Cisco's enterprise sales organization, channels, marketing and customer advocacy groups more than a year ago to formulate an engagement plan to increase partners' profits.
"The whole notion was, 'Let's all determine we're going to be in the field of football. Let's all take a page out of that playbook and build a strategy running a single play.' So we built the value engagement model out of that. Everybody is committed to that."
But partners say the value engagement model can't work when enterprise sales organization reps are under extreme pressure to meet sales targets.
Dennerline said that in the past Cisco reps were up against very aggressive sales goals, but that's not true anymore. "The message from the top is we want to focus on new growth opportunities," he said. " 'I want to grow 20 percent [quarter over quarter]' is not the message anymore."
Chambers said Cisco is focused from the top down on improving its partners' profitability, and the value engagement model is an important part of that effort.
Chambers said that in a Partner Summit meeting with Gold partners, they told him they see the company's focus on their profitability throughout Cisco's management team, but it's very inconsistent at the sales rep level. The message will take some time to permeate throughout the company, he said.
"That's like my focus on profit contribution [within Cisco] 27 months ago," Chambers said. "It took almost 18 months before we really got it down through the whole company. In the last year, we got the whole company focused on it. But it took that long to drive it through effectively," he said.
"One of the action items that we took coming out of this is to educate the individual sales rep on the importance of systems sales and channel profitability and how do we really become a good partner in the sales cycle," Chambers added.
Still, the process will take some work on the part of the channel partners as well, he added. "Many of our partners are very good at selling solutions just like many of our sales reps are," he said. "But there are individuals within channel partners and within Cisco that are not as good at that. It is something they have to learn, or their capability to make a contribution in the future will be challenged."
Paul Mountford, vice president of worldwide channels at Cisco, said the value engagement model will eventually fix any problems partners have with individual sales reps. "When we announced the value engagement model last year, I said at that time it would probably take 18 months to two years to make it work," Mountford said. "I was open and honest with the partner community and said, 'I know our [enterprise sales organization] is behaving badly, and we're going to fix that.' We pushed it out this year and we've stopped a lot of the bad behavior in the company, and if somebody does it again it's a disciplinary issue," he said.
"I think we'll stamp it out in the next 12 months. I don't think that will be an issue at next year's Partner Summit."
Printer-friendly version
Email this CRN article