Corvero's Convergence Server enhances Cisco's call-processing software.
Printer-friendly version
Email this CRN article
Solution providers are shifting the IP telephony conversation to focus on how voice-over-IP can help customers become more productive by pairing it with XML applications.
"We lead with the applications," said Doug Bowlds, vice president of AAC Associates, a solution provider in Vienna, Va. "To us, it's a bundled part of the sale."
AAC has developed its own application suite for the education market, dubbed PhoneTop K-12, which manages attendance and electronic hall passes via IP phone displays.
Such applications, often customized for specific vertical markets, will help drive sales of IP telephony by showing customers a way to do more with their communications systems than simply make phone calls, industry observers said.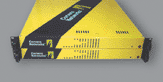 Corvero's Convergence Server enhances Cisco's call-processing software.
Two companies, Corvero Networks and Norstan Communications, recently introduced appliances to integrate and manage XML applications in IP telephony environments.
Corvero aims to sign on some of Cisco Systems' top IP telephony partners to work with its Convergence Server, said Derek Downs, vice president of marketing and business development at Corvero, Dallas.
The appliance comes pre-loaded with applications developed by Corvero that add features to Cisco's CallManager call-processing software such as voice recording, audio broadcast, and voice-enabled directory assistance, Downs said.
With Corvero's software development kit, partners can include their own applications, or those jointly developed with Corvero, on the appliance and create differentiated solutions for their customers, Downs said.
"Corvero makes small deals bigger, helps us speed along the sales process and creates a compelling event for customers that are still in between in the decision making," said John Cide Baca, director of the IP telephony practice at InterNetwork Experts, a solution provider in Addison, Texas.
Norstan, itself a large communications solution provider, is tapping channel partners for its Norstan IP Application appliance, built on Dell hardware, which provides a framework for deploying IP features and applications across an entire organization.
"Our channel strategy is that we give a lot of margin, we support them with our feature set and we co-brand our appliance with a large server manufacturer," said Paul Campetella, practice leader at Norstan, Minneapolis.
Printer-friendly version
Email this CRN article