Printer-friendly version
Email this CRN article
When you're up against a giant, it's nice to have a little help from your friends.
A bevy of infrastructure vendors hoping to tame networking giant Cisco Systems are turning to the channel for a helping hand. With an array of new partner programs to back them up, vendors in the IP telephony, switching and routing markets are courting solution providers with promises of higher margins, less congested partner ranks and competitively priced products.
Cisco, San Jose, Calif., is facing pressure at the low end from vendors such as Netgear all the way up to the high-end enterprise space from IP telephony vendors such as Avaya. These vendors are finding willing partners among the ranks of networking solution providers that don't necessarily want to anger the biggest vendor in their market but, faced with the chance to boost their margins, are more inclined than ever to sell non-Cisco gear.
 

>> In an attempt to cut Cisco down to size, a fleet of vendors are enlisting channel partners ina bid to grab market share from the networking giant

 
Santa Clara, Calif.-based Netgear, for one, sells wireless access points for hundreds of dollars less than the equivalent Cisco products and boasts of 30 percent margins on its 100 VPN tunnel firewall product. Netgear Chairman and CEO Patrick Lo says it's "impossible" for Cisco to match his company's margins on these types of low-end products.
Salient Networks, a Carlsbad, Calif.-based solution provider, sold a $1.2 million IP telephony solution from Avaya to the city of Yuma, Ariz., even though the city had already standardized on Cisco WAN and LAN equipment. The reason Yuma brought Avaya into the mix? Cost and the flexibility afforded by Avaya's hybrid technology approach, which enabled the city to deploy VoIP in its new city hall but maintain traditional handsets in other locations, said Jeff Hiebert, former Salient sales and marketing vice president and now CEO of San Juan Capistrano, Calif.-based ROI Networks.
The relatively nascent IP telephony market is one area where Cisco appears to be increasingly vulnerable to competition, since some vendors can draw on a legacy base of traditional telephony customers, solution providers said. In fact, earlier this year, Avaya, Basking Ridge, N.J., eclipsed Cisco for the lead in the U.S. IP-PBX market for the first time, according to market researcher InfoTech.
Other vendors are making their moves, too.
Nortel Networks this week is expected to detail plans for a revamped channel program scheduled to launch in January that adds several new discount opportunities for partners. Nortel for the first time will offer partner designations based on factors such as service capabilities and customer satisfaction ratings instead of solely labeling partners according to sales volumes, said Christine Durham, vice president of channel marketing at Nortel, Brampton, Ontario (see sidebar, page 22). "The channel, particularly partners that specialize in solutions, will help us grow our market share," Durham said. "We view them as a key growth factor in reaching small and medium-size enterprise customers."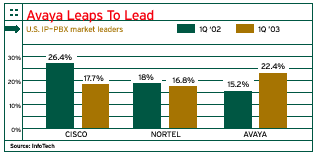 Enterasys Networks has upped channel spending by 10 percent to 15 percent over the past year in an effort to recruit and support VARs with high-end skills, said John Erdman, vice president of global channels at Enterasys, Andover, Mass. Erdman said that in one instance,a deal registration program that grants partners a year of sales exclusivity and an extra 10 percent discount on new business across the vendor's product lines,Enterasys has generated about 130 new accounts since the program's launch nine months ago. "The channel can help us pick up market share against Cisco," Erdman said. "It's a challenge, certainly, but it is working for us."
Research shows that these vendors' efforts are yielding some slight gains against the networking behemoth. For example, Enterasys, Hewlett-Packard and Nortel posted growth,albeit each less than 1 percent,in LAN switching market share during the second-quarter 2003 compared with the same quarter a year ago, according to Synergy Research Group. During the same period, Cisco's market share dropped nearly 3 percent.
Some Cisco partners say these vendors' messages about profitability and channel-friendliness are resonating with them because of the slim profits they can make on Cisco products, partner-on-partner cannibalization, and continued difficulty working at local levels with Cisco's Enterprise Sales Organization. "We don't work well with their sales force. We try to build a relationship with the customer, and their aggressive pushiness gets in the way," said Steve Marks, president of Starnet Data Design, a Cisco Premier partner in West Lake Village, Calif.
For a variety of reasons, not the least of which is margins, CDW said it, too, is seeing an increase in the sales of non-Cisco gear. "We're only a Cisco authorized partner, so that means we don't get the best prices on the market," said Jim Grass, senior director for sales at CDW, Vernon Hills, Ill. "You have to remember that our people get paid on margin, so they are trying to balance the interests of the customer with the interests of CDW." As a result, when an opportunity presents itself, CDW salespeople may recommend non-Cisco gear, he said.
However, even those solution providers that say Cisco is a difficult partner and have adopted competitive product offerings are quick to concede the importance of representing Cisco's product lines, which analysts say garner more than 65 percent of the LAN switch market and more than 90 percent share of the router market. "Cisco is an absolute necessity," said one solution provider who asked not to be identified. "No one in their right mind is going to say they can compete without Cisco."
In addition to its product dominance, Cisco has long been a major channel player, with more than 90 percent of its $19 billion in sales in 2003 going through the channel and tens of thousands of solution providers regularly buying Cisco products via distribution. At its Vendor Symposium last week, Ingram Micro presented Cisco with an award for profitability, sales and marketing success.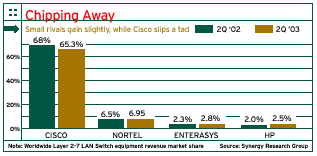 "Cisco truly listens and responds to its customers and distribution partners," said Mike Grainger, president and worldwide COO of Ingram Micro, Santa Ana, Calif. "Cisco's team is always eager to learn and understand how they can become an even better channel partner, even to the extent of changing their sales processes."
For its part, Cisco admits it is concerned about competitors but doesn't believe they offer solution providers a truly compelling alternative to its products. "We have the best channel partners in the industry, so I am not surprised to hear that our competitors are more aggressively attempting to recruit them," said Paul Mountford, vice president of worldwide channels at Cisco. "That said, we have never been better positioned, from a financial, product or channel perspective, against our competitors than we are today. As long as we continue to listen to our partners, deliver the resources that drive mutual success and execute, we will maintain our market position." Cisco takes partners' grievances seriously, added Mountford. In addition to launching several new programs aimed squarely at improving partner profit margins, such as the recently extended Value Incentive Program for IP telephony and security products, Cisco also continues to educate its sales force on how to better engage the channel, he said.
While Cisco will inevitably relinquish some market share given the sheer number of vendors trying to pick away at its business, some partners maintain that Cisco really doesn't have any competition.
"Cisco may not always be the best point solution, but when you put it together as a full solution, that's when Cisco stands alone," said Mark Theoharous, president of Burwood Group, a Chicago-based Cisco Silver partner.
 

>> EVEN THOSE THAT SAY CISCO IS A DIFFICULT PARTNER ARE QUICK TO CONCEDE THE IMPORTANCE OF REPRESENTING CISCO'S PRODUCT LINES.

 
Yet competitors that claim to have a better channel story to tell still say they have hopes of gaining market traction, especially as solution providers see cost-conscious customers showing increased interest in Cisco alternatives. The premium customers pay for Cisco products has climbed above 50 percent, up from 10 percent to 15 percent two to three years ago, said Mark Fabbi, vice president at research firm Gartner. "We're starting to see enterprises getting to the point where they are frustrated with how much they're paying for Cisco, so that's opening doors to alternatives," Fabbi said.
Mountford countered that a 50 percent premium would be a worst-case scenario on a small group of products, noting that Cisco constantly analyzes pricing and runs promotions in its core business. "Even if the list price is at a premium, the prices we deliver to customers are often the same as our competitors," he said.
However, because of IT budget crunches, customers are taking the time to evaluate products on price/performance merits rather than buying solely based on brand name, said Steve Thorpe, president of Adaptive Communications, a Portsmouth, N.H., solution provider.
Cisco's dominance in routers and switches is not dissuading vendors from enlisting partners to help them in their uphill battle against the networking goliath. Vendors such as HP and 3Com, which is peppering the market with products from its joint venture with Chinese networking vendor Huawei Technologies, are touting their networking product lines as less complicated and easier for partners to configure and install.
"Cisco probably has 45,000 part numbers when it comes to their networking portfolio," said Chad Williams, director of the public sector business at Matrix Integration, a solution provider in Jasper, Ind. "HP has 40, so it's easier to figure out what you need," he said.
And solution providers like the attention they can receive from a smaller vendor. Router vendor Quick Eagle Networks, Sunnyvale, Calif., has gone the extra mile to introduce solution provider Megabyte International into new accounts, said Gene Dulay, senior account manager at Megabyte, Sunnyvale. "Because they're smaller, they're hungry, and they have to be hungrier," Dulay said.
It remains to be seen how big a bite out of Cisco these hungry vendors will take.
SCOTT CAMPBELL, MARIE LINGBLOM & MICHAEL VIZARD contributed to this story.
Printer-friendly version
Email this CRN article