Printer-friendly version
Email this CRN article
Integrators, vendors and health-care providers say the remedy for the fragmented health-care industry is for everyone to work together to create new, Web services-powered systems that will help track and contain biological attacks, epidemics and other medical disorders.
Web services, they say, also hold great promise when it comes to reducing costs and improving patient care by tying together disparate systems and enabling health-care providers to share patient records in a timely and secure manner over the Internet.
 

>> Solution Providers Say Web Services Hold The Cure For Some Of The Largest Problems Plaguing The Highly Decentralized Health-Care Industry

 
Although such projects are still in the development stage, industry experts say there are many new opportunities opening up for solution providers in this area.
Russ Ricci, general manager of IBM's global health-care division, said health-care providers have just started to look at integrating these clinical systems within health-care facilities so that they can talk to each other,as well as to the outside world.
"The clinical side of health care has less than 5 percent penetration," Ricci said. "We're talking about hospitals, nursing homes, doctor's offices."
In addition, he added, there will be a market for solution providers that want to develop hosted solutions that physicians can use to tap into these developing health-care networks.
Jeff Terner, president of solution provider Avigent Consulting Group, San Francisco, said health-care providers typically use a variety of clinical solutions throughout an organization, and the trick now is linking them together. "We're seeing that, with HIPAA [the Health Insurance Portability and Accountability Act] and privacy regulations, there is an expansion of companies that are needing those types of integration services," he said.
While the application of Web services in health care, like elsewhere, is still in the early stages, solution providers say there is growing momentum to develop standards to address pressing problems.
One such area is in the development of systems to protect public health. With the SARS epidemic, anthrax-letter attacks and threat of terrorism, there has been more attention focused on systems to pinpoint outbreaks of disease and other public health threats.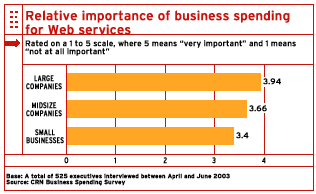 China announced in April that it plans to spend up to $500 million to set up a nationwide health network to combat SARS after the World Health Organization criticized the country's handling of the deadly viral breakout. In the United States, two nonprofit groups,the eHealth Initiative and the Markle Foundation,recently teamed up for a concept demonstration of a Web-based national health-care network.
Such a network could help contain a biological or chemical attack, said IBM's Ricci, who is also chairman of the eHealth Initiative, an industry group formed to promote electronic health-care networks. Its members include IBM, EDS, Siemens and Cerner, among more than 100 other technology and health-care concerns.
"The big impact of the anthrax scare was the lack of realtime information," Ricci said. "It would have helped to have been able to [query] a computer to show us all of the people who work at the post office who went to the emergency room. But there is no standard way to do that."
The demonstration project has a larger objective, though. Ricci said participants intend to use it to showcase how Web services-enabled systems can help health-care providers, insurers, pharmacies and government agencies share clinical information.
Among the project participants are New York-Presbyterian Hospital in New York and Vanderbilt University Hospital in Nashville, Tenn., as well as the Centers for Disease Control Prevention, Atlanta. Two of the nation's largest health-care solution providers,San Francisco-based McKesson and Kansas City, Mo.-based Cerner,are also involved in the project.
If such a nationwide network were built out, a doctor could consult with a patient and easily retrieve electronic medical records, receiving realtime information about prescriptions, drug allergies and past medical history that the patient now often has to provide by memory, Ricci said.
In addition, insurance companies could automatically query hospitals to make sure quality of service is maintained, he said. They could, for example, search to see how many patients who had suffered heart attacks were discharged without a prescription for a beta blocker, a drug that helps prevent future incidents.
The demonstration is using IBM's WebSphere application server as middleware and conforms to HIPAA standards, Ricci said.
Even though the majority of health-care providers are still using EAI tools to connect disparate systems, most experts agree that these tools will quickly give way to Web services as the technology matures.
What's missing are some key standards in the health-care industry. Health Level 7,where "7" represents Layer 7, or the application layer, of the International Standards Organization,is the most widely recognized standard for electronic messaging in the health-care industry, experts said. The HL7 group is working on version 3 of the standard, which will support Web services.
"HL7 version 2 found in hospitals today is based on an EDI-like messaging protocol," said Orlando Portale, worldwide health industry manager at Sun Microsystems. "Version 3 is really based on XML.
I think it's going to make integrators' life a lot easier in terms of connecting up legacy health-care systems."
Another important standard focuses on transmitting clinical data. In March, the departments of Health and Human Services, Defense and Veterans Affairs unveiled a set of uniform standards for the electronic exchange of clinical health information to be adopted across the federal government.
The new standards, part of President George W. Bush's eGov initiative, are expected to help improve the quality of care by ensuring federal entities use a common coding system that will make it easier to coordinate care and exchange needed information. Currently, federal entities use different coding systems that make it difficult to maintain up-to-date information.
"We've had standards for tire sizes but not a nomenclature for your heart," Ricci said.
Staying on top of the standards needed to help tie together the applications can be a full-time pursuit. That standards expertise will come in handy when dealing with health-care providers, which are typically cash-strapped and risk-averse. Sun's Portale said integrators should work with their key vendors now to make sure that applications will work in the Web services-based health-care future.
"Integrators may want to take some of their leading vendors and look at interoperability between those packages and how they can be plugged together with Web services," he said, adding that this is the kind of integration Sun can do at its iForce centers.
For its part, health-care solution provider Cerner recently unveiled its Millennium Objects, a set of Web services Cerner has exposed in its applications, said Dan Soule, enterprise director at Cerner. The objects allow developers to build on top of Cerner applications as well as connect various health-care systems, he said.

'The onus at the moment is still to build Web Services and [proprietary] security.'
-- DAN SOULE, ENTERPRISE DIRECTOR, CERNER
Soule said that Cerner and other health-care integrators are waiting for some better security standards before pushing further into Web services. "The onus at the moment is still to build Web services and [proprietary] security," Soule said.
But that's not stopping many from trying. Sun, for example, has teamed up with The Michigan Electronics Medical Record Initiative to develop a Web services-based electronic medical records system for residents of Michigan. The group said the proposed system would cut at least $350 million a year from Michigan's health-care costs while still enhancing the quality of care.
The idea is to give a variety of health-care providers and patients access to medical records via an electronic system. The system would be built around the Sun ONE architecture and would rely on the Sun-led Liberty Alliance Project for security and privacy, according to Portale.
The tools are in place and the standards are being developed, but the problem for the Michigan initiative now is coming up with the money. David Ellis, the initiative's interim executive director, said the group is still working to raise money for the project.
That is an ongoing issue in the financially strapped health-care industry. The technology may be here, but the money isn't. Solution providers, vendors and others are betting that the maturing of Web services standards will be the key to delivering return on investment and unlocking investment dollars.
Printer-friendly version
Email this CRN article