A home integrator's digital signage solution sparks sales for one local winery
Printer-friendly version
Email this CRN article
A California winery is experiencing a booming crop of sales, thanks to a local digital integrator and a custom-built Media Center PC solution.
Paso Robles, Calif.-based integrator Process Digital Entertainment Services develops digital signage and entertainment solutions for businesses and homes and installed one of its My Media Machine systems in the tasting room of the nearby L'Aventure winery. The winery previously used brochures and stationary signs to present information on its offerings and specials, but when it switched to a signage solution based on the system, sales of advertised items tripled within three months.
"We use the machine to show people what we have and use it for a combination of advertisements—'We have this wine, this kind.' And we use it to show people around the vineyard," said Emily Miller, who handles photography and computer systems for the winery.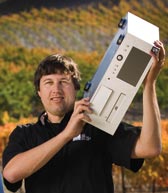 Slide Show: Take a tour of the
L'Aventure winery installation
L'Aventure combines old-world techniques with new technologies for its wine-making, so Miller said it was only appropriate to have a system in its tasting room that uses digital technology in lieu of paper signs.
L'Aventure also uses the system to present multimedia tours of its 120-acre vineyard. The system shows slides with explanations of the vineyard's wines, along with photos of the grounds, the vineyard's owner and winemaker Stephan Asseo, and even Ella, the vineyard dog. Miller then uploads music to the system, providing a vibrant entertainment presentation.
"It provides a window into the vineyard," Miller said. "People ask questions about what they see, and so it keeps the dialogue going."
For Kevin Mikelonis, owner and general manager of Process Digital, the ability to dynamically present graphics and text has made the Media Center PC platform ideal for signage applications.
"I've seen installations of flat panels in different places called digital signage, but they are nothing more than PowerPoint presentations. The animation in a Media Center PC, how it pans and zooms and moves out, it gives the illusion of a custom-produced video or presentation, when all it's doing is taking stock images and making them move," Mikelonis said. "It's so much more captivating than a PowerPoint presentation, without the production costs of promotional video."
Process Digital's installations consist of the My Media Machine, a display and a sound system, and it charges $8,995 to $26,295 for the package. The company also offers add-on services such as content management and is looking into offering remote backup of content.
Other integrations have included a My Media Machine installed for a real estate agent to present photos and other information on property listings, and a solution for a plastic surgeon to show pre- and post-surgery photos.
Media Center PCs are more traditionally used for residential entertainment functions, and Mikelonis said 20 percent of the company's installation work caters to that market. He said that he expects the amount to rise to 40 percent, fueled in part by commercial customers wanting systems in their homes.
For residential customers, Process Digital offers a My Media Machine as a central point for all of the home's entertainment systems.
When Process Digital first began working with Jon and Sharon Opsal, the family's Livermore, Calif., home had 11 different remote controls for its many entertainment systems, not to mention assorted other input and control devices.
"We had wires all over the place. My wife just said, 'I don't know how to use this thing.' It was kind of a nightmare trying to have everything there," Jon Opsal said. "With the Media Center, it just simplified everything. You control everything through that one central processor."
The Opsal family uses the system to watch television or DVDs and listen to music from CDs or satellite radio. All of the family's movies and music is stored on its My Media Machine, and the system is networked to automatically back up its content to a PC in the home's office and to an external drive from Seagate Technology.
Mikelonis' interest in installing the Media Center PC as a platform for entertainment and signage tasks came about in a roundabout way.
He spent 20 years as the head of an A/V systems integrator in North Carolina that did large residential installations of closed, proprietary systems from Crestron and other vendors.
After leaving that company and moving to California, Mikelonis set up Process Dealer Services Group, which partners with vendor D-Tools to help integrators use the company's design and installation software solutions.
Mikelonis then set up Process Digital Entertainment Services to make sure he and his employees would be able to stay experienced and knowledgeable about the needs of the integrators with whom they work.
Two years ago, Adam Stone, founder of Concord, Calif.-based D-Tools, showed Mikelonis his Media Center PC. Mikelonis soon bought his own, and while playing with it at home realized that the platform would be ideal as the core of home and commercial installations.
"I'm more excited about this product and platform than anything that's come along in this industry in a long time," Mikelonis said. "I see what it's done for people I've installed it for. People have had systems for 10 to 12 years, bolted on a lot of new technologies such as TiVos, digital satellites and XM radios. They have these big, obese, difficult-to-use systems and want to scale them down to something that's easy to operate."
Mikelonis then spent eight months evaluating system builders to find a company that builds high-quality custom PCs backed up by thorough support. He chose 2partsfusion, a vendor based in Louisville, Ky.
"The follow-through and support and response is how we made our decision. The majority of OEMs you would think of were, for the most part, the least responsive. Support for this product is paramount because it's so new," Mikelonis said. "They're being pioneers, we're pioneers. It's fun but tough. If someone is falling down in the process of signing me up to do business with them, my confidence in their ability to support me is not there."
2partsfusion's PCs are built in cases that resemble CE devices and run quietly. Some of the company's PCs also include 7-inch LCDs on the front of the cases, which displays menu settings and system information.
Process Digital's customers also praise the stability and continuous uptime of their machines, and the company maintains those standards through the way the My Media Machine is marketed and supported.
While some integrators and vendors sell a Media Center PC as a Swiss Army pocketknife to handle all of the home's entertainment, e-mail, office and other tasks, Process Digital only sells it as an entertainment device. Plus, customers void their warranty if they install extra software on the device, so there's less support needed and less opportunity for a problem to arise.
"The customer will have certain expectations when installing something that it will work," Mikelonis said. "If you're allowing them to do things that will make it potentially not work, that will have significant impact on your profitability if you have to continually service it."
The company's careful marketing approach and its branding of the device also helps it charge higher prices for the products. Calling it a computer would force it to compete on price with the major OEMs of the world.
"We don't refer to this as a PC. That's intentional because we don't want people to associate it with a computer, because then it would only be worth $699 in their minds," Mikelonis said.
With all of the Media Center platform's many capabilities, Mikelonis cautions that there are some scenarios in which it is not ideal. The company will set it up in one or a small number of rooms along with Media Center Extenders for simple distributed audio, but it will not install the system for whole-home content distribution. It also does not use the system for full home control or automation, as Mikelonis said the platform's relatively new age makes it suspect for such use.
"[Media Center is] a source, not a control system, but a source with a great control system built in," Mikelonis said.
Still, Mikelonis said My Media Machine is more than capable of the uses for which his company installs it.
Mikelonis scoffs at the many A/V integrators that recoil from using such open-standard, IP-based products out of fear of low profit margins. He said that not only is the market heading in the direction of IP-based systems, but said there is plenty of money in installing them.
"A lot of guys are so scared of this thing because they think they can't make money doing it. They only think they can make money selling big, obese systems for a lot of money that require a lot of expertise to install and support," Mikelonis said. "Even though this is more of a simple system, it still requires the value-add of the right installation, selection of the best speakers and other peripherals and the right content. There are still tons of opportunities for value-add and plenty of room for services," he added.
Printer-friendly version
Email this CRN article