Installs secure, cost-effective VPN solution for designer
Printer-friendly version
Email this CRN article
When Ed Eskew started at Bernard Chaus, a designer and manufacturer of women's clothing, the company was using an expensive, unreliable, insecure frame relay network.
"After doing a cost and needs analysis on that particular technology, I came to see that what the company was doing was not the best solution, and certainly not the most economical," said Eskew, vice president of information technology at Chaus, based here.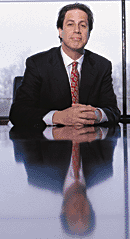 CGAtlantic President and CEO Robert Cohen says the VPN 'shrinks the distance' between Chaus' U.S. and Asia offices.
The designer turned to systems integrator CGAtlantic, which came up with a secure, cost-effective solution that allowed Chaus' U.S. and Asia offices to better communicate with each other.
CGAtlantic, New York, replaced the frame relay network with a firewall/VPN solution using products from Check Point Software Technologies. The integrator installed firewalls in Chaus' offices in Taiwan, Korea and Hong Kong, and created VPN connections among those offices and its offices in the United States.
The VPN solution is more reliable, more secure and far less expensive than the frame relay network, Eskew said. The system is centrally controlled from Chaus' data center in New Jersey, so it's easier to manage and back up than it would be if control were distributed. And while the existing network was costing Chaus about $150,000 each year, the VPN costs about $30,000. "I get to sleep at night again," he said.
"We came in to help [Eskew come up with a plan that would help [Chaus leverage technology in order to shorten manufacturing cycles and increase productivity of the company as a whole," said Yuval Goren, vice president and CTO of CGAtlantic.
 

 ANATOMY OF A SOLUTION

>> COMPANY: CGAtlantic, New York
>> FOCUS: Network integration; Internet, security and wireless solutions
>> ANNUAL REVENUE: Company is privately owned, declined to disclose
>> PROBLEM and SOLUTION: Clothing manufacturer Bernard Chaus wanted to establish more efficient communications between its U.S. and Asia offices; CGAtlantic replaced the company's frame relay network with a VPN.
>> PRODUCTS and SERVICES USED: Check Point firewall/VPN solution
>> LESSONS LEARNED:
• Leverage technology to increase your client's efficiency.
• Outsourcing network management trims customers' staffing costs.
• Creating a global network means reconciling cultural, language and technology differences.
 
Before CGAtlantic entered the picture, Chaus was faxing or mailing garment information back and forth between its U.S. and Asia offices, said Goren. "We were looking to get Asia more involved in reviewing the production cycles and opening communication so it didn't take two to three weeks to get to a sample garment."
Now, the Asia offices can communicate via e-mail and share information over the high-speed VPN, greatly reducing the production cycle, Goren said. The solution also provides Chaus employees with access to data on its legacy AS/400s.
The VPN effectively shrinks the distance between the Asia and U.S. offices, boosting productivity, said Robert Cohen, president and CEO of CGAtlantic. "They can communicate as if they were down the road [from each other," he said. "This [solution is allowing Chaus to move ahead into the future, to become a 24x7 operation."
Chaus also contracted with CGAtlantic to monitor the firewall/VPN solution because the manufacturer didn't have the technical expertise on staff, Eskew said. The outsourcing arrangement, which now covers the entire network operation, saved Chaus money in staffing costs, he said.
"The expense on the monthly maintenance side was offset by [staff attrition," said Eskew.
CGAtlantic monitors and manages Chaus' firewalls and VPN around the clock from its remote data center, Cohen said. The integrator also placed certified engineers on-site at Chaus' New Jersey and New York offices to help with IT issues during regular business hours.
Printer-friendly version
Email this CRN article