Printer-friendly version
Email this CRN article
Solution providers in the storage space have written their wish lists for 2002.
Most of all, they'd like to see advances in two areas: virtualizing storage and managing multiplatform storage environments. Vendors are paying attention, but progress is slow.
Mike Cush, CTO of Cranel, a Columbus, Ohio-based solution provider, said he's looking for improvements in mainstream management, which revolves around the ability of any software to manage any hardware platform, regardless of connectivity protocol, through a single global interface.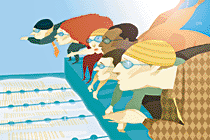 Solution providers seek improvments in virtualization, mananging multiplatform environments
Tied in with that is storage resource management, which allows proactive storage monitoring and trend analysis, and virtualization, which would connect storage devices from multiple vendors to a single storage pool, said Cush. "Virtualization would move storage toward becoming a commodity," he said.
Another wish on Cush's list: heterogeneous disaster-recovery management, especially snapshot capabilities across multi-platform SANs. Ideally, the best storage management product would combine all those features, said Cush. "But that would be tough to do given all the different hardware and software components," he said.
Added Greg Hagerl, director of sales at Lewan and Associates, a Denver-based solution provider: "Right now the hardware manufacturers are having enough trouble working with their own storage products, let alone someone else coming in to tie all the different products together," he said.
But that integration would be worth vendors' while, making it easier for solution providers to sell storage management to clients, said John Murphy, executive vice president of Advanced Systems Group, Denver. "Customers are confused. They're taking a wait-and-see attitude and looking for a more complete set of tools," he said. "Different applications do different things, but no one app does it all."
Other solution providers are encouraged by the number of storage start-ups and hope those fledgling companies will help stir innovation in the market.
"I'm very happy these little companies keep popping up," said Derek Gamradt, vice president of engineering and CTO at StorNet, Englewood, Colo. "It just demonstrates how fast this industry is moving."
 


>> Solution providers hope storage start-ups will stir innovation in the market.
 

 
In the meantime, vendors are working on enhancing their storage management offerings with at least some of the features on solution providers' wish lists.
Veritas plans to move toward virtualization in the NAS space and increase its emphasis on SAN virtualization, said Marty Ward, director of product marketing for the company's availability products. Ward said Veritas plans to unveil new virtualization technologies this month, with more slated this summer.
Veritas also plans to make a bigger push into the AIX space and focus a lot more attention on Windows, said Ward. The company is planning to move its disaster-recovery technology to more platforms as well, he said.
Another vendor, McData, hopes by April to enhance its SANavigator applications, acquired last year, by adding zoning capabilities that will allow those apps to fully manage SANs and automate day-to-day tasks, said Rebecca Baum, senior product manager for software at McData, Broomfield, Colo.
Also, SANavigator will offer more policy-based management aimed at improving disaster recovery, said Baum. McData will make a big push into the solution provider market with packaged versions of its software sold separately from the company's SAN switches, she said.
Meanwhile, BMC Software will continue to emphasize application-specific storage management in enhancements to its Patrol Storage Management software, said Dan Hoffmann, director of recovery and storage management solutions. The company hopes to integrate some new features, such as
policy-based management, increased automation and enhanced reporting, in a June release of its product and plans to offer solution providers more training, pricing and marketing incentives in March, said Hoffmann.
NSI Software, Hoboken, N.J., whose DoubleTake application is aimed at managing direct storage and NAS subsystems over Windows, will put special emphasis on being part of Microsoft's .Net initiative, said Bob Guilbert, vice president of marketing.
This month, NSI will unveil plans to offer professional services, including assessment, design, implementation and management, around DoubleTake, Guilbert said. "Those services will be available to VARs to sell and deploy," he said.
Printer-friendly version
Email this CRN article