Printer-friendly version
Email this CRN article
The shape of things in the storage hardware and software arena stands to change if Hitachi Data Systems has its way.
Santa Clara, Calif.-based HDS, a subsidiary of Japanese technology giant Hitachi Ltd., aims to topple storage kingpin EMC with a broader array of products, more channel-driven sales, key vendor partnerships and robust revenue growth, said COO Dave Roberson, who last week added the title of president. But that mission won't be a cakewalk. To accomplish its goal, HDS must achieve substantial sales gains amid a sluggish storage market and surmount EMC's market- and mind-share lead in various storage segments.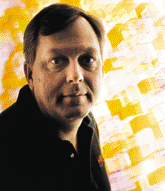 President and COO Roberson says the storage vendor is challenging market leader EMC with an expanded array of products and a growing channel.
"From a hardware platform point of view, we have the best technology in the market today. We can compete with [EMC quite well at the pricing level also. On the software side, they have the thought leadership of the industry, although I'm not sure they have the technology leadership," Roberson said. "So what we're hoping to gain is both of those leadership positions."
Hitachi and HDS reported that together they shipped a total of 18.1 petabytes of storage capacity in fiscal 2001, up 85 percent from the 9.8 petabytes shipped the year before. Shipped capacity grew 75 percent in the high-end market and 164 percent in the midrange sector, HDS said.
"In the enterprise RAID storage part of the market, which is the high-end, large subsystems competing with [EMC's Symmetrix and [IBM's Shark, we're No. 2," Roberson said. "We have around 30 percent to 35 percent of that market. I believe, by the end of this year, that we have the potential to be No. 1 in that market," he said. "If you look at the midrange market, where today Compaq dominates, we probably have about a 5 percent to 10 percent market share. That's a market where I think we have tremendous growth potential."
Last year, HDS' sales in the core disk-storage systems segment jumped 25 percent year over year to $733 million, while Hitachi's sales in the category rose 6 percent to just more than $1 billion, according to research firm IDC. Market leaders Compaq Computer, EMC, Hewlett-Packard and Sun Microsystems, meanwhile, saw hefty revenue declines, and IBM had only a slight a revenue gain, IDC said. Overall, Hitachi-HDS had 7.2 percent of the global disk-storage systems market, compared with 15.6 percent for EMC.
HDS also cracked the top 10 in the storage management software market in 2001 with revenue of $91.5 million, up 59 percent year over year, according to Gartner Dataquest. The storage management software segment saw 3 percent growth overall, the research firm reported.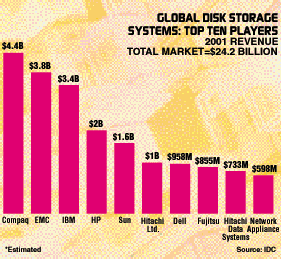 Jim Quasius, president of GCA, a St. Petersburg, Fla.-based solution provider, said HDS is on the ball in terms of both technology and channel-friendliness. "In our experience to date, Hitachi generally stands behind their partners and protects them. When we bring big deals to Hitachi, they usually stand behind us," Quasius said.
That view may reflect HDS' increased channel presence. Two years ago, nearly 99 percent of the company's sales were direct, but today about 40 percent of its sales go through the channel, said Tom Valiante, vice president of reseller channels at HDS. "We are looking for 60 percent-plus through the channel in the next year or two," Valiante said.
HDS has come a long way in building a name for itself in storage, company executives said. Four years ago, HDS was struggling as a maker of IBM-
compatible mainframes when it decided to change its focus to storage. Shortly thereafter, HDS became profitable in North America for the first time, said Hu Yoshida, the company's CTO.
Since then, HDS has ascended quickly in the storage realm. In 1999, it scored a victory when HP dropped EMC as its OEM supplier of high-end storage arrays in favor of HDS. And in 2001, HDS inked a reseller pact in which Sun would resell HDS arrays through its direct and indirect channels.
Then last December, Shinjiro Iwata signaled HDS' arrival as a serious storage player when, upon being named the company's CEO, he predicted that HDS would unseat EMC as the top storage vendor by 2004. Roberson reaffirmed that goal last week when he was promoted to president.
HDS has been active on the technology front as well. Earlier this month, it unveiled two new storage arrays,the Freedom Storage 9970V and 9980V,as well as an upgrade of its storage management software, HiCommand 2.1. And in April, HDS formed an alliance with IBM to develop interoperable storage technologies,including virtualization,based on open, multivendor standards such as the Common Information Model (CIM).

When taking the helm of Hitachi Data Systems as CEO last December, Shinjiro Iwata predicted that the company would take the No. 1 spot in the storage market from EMC by 2004.
HDS also might consider acquisitions to bolster its offerings, Roberson said. The company already has publicly discussed potential software and services acquisitions as a way to provide multiplatform storage management and customized solutions for clients.
Still, HDS faces some key challenges in its quest to dethrone EMC. For one, the storage market has slumped, falling to $24.2 billion in total revenue last year from $30 billion in 2000, according to IDC. At the same time, the market's focus has shifted to software, where EMC led the field with 2001 revenue of $1.5 billion vs. less than $100 million for HDS, Gartner Dataquest reported. EMC also holds the No. 1 market position in the NAS, SAN and external RAID spaces, giving it a breadth of offerings HDS can't hope to match, said Ken Steinhardt, director of technology analysis at Hopkinton, Mass.-based EMC.
HDS' new arrays are based on a MIPS processor rather than the Intel processor the company previously used, resulting in a need to modify some applications for the hardware, Steinhardt said. And on the software end, HDS announced multivendor support but so far has only been able to extend its software to Sun's T3, he said. "Their software focus is on IBM, and IBM has said publicly that its virtualization offering and StorageTank platform will be delayed until sometime in 2003," Steinhardt said. On the interoperability front, EMC supports CIM and is pushing its WideSky multivendor management software.
One sign of software's growing importance in storage emerged last month, when EMC filed a federal lawsuit charging Hitachi and HDS with violating six patents related to storage management software, data migration and mainframe storage. EMC also filed a complaint with the Federal Trade Commission accusing HDS of importing products containing EMC intellectual property. The FTC agreed to look into the matter two weeks ago.
If the FTC validates EMC's claims, then Hitachi-HDS could end up being forced to stop importing some storage products. That, in turn, would squeeze the company's sales and its business with solution providers, channel executives said. What's more, Sun and HP,which have made HDS arrays a linchpin of their product lines,could see their high-end storage sales grind to a halt under that scenario, they said.
"That [situation would be interesting," said Kip Lindberg, vice president of enterprise sales at Ncell Systems, a Minnetonka, Minn.-based solution provider that works with both HDS and Sun. "If so, there goes Sun's high-end storage strategy, and HP's as well."
HDS' relationships with Sun and HP also are subject to change at any time, said one solution provider who wished to remain anonymous. "Those partners have the ability to bring out products that could minimize the Hitachi relationship," he said.
For instance, in merging with Compaq, HP picked up Compaq's new Enterprise Virtual Array (EVA) product line, which HP plans to make its standard platform for entry-level to enterprise-class storage. As a result, EVA looms as a competitive threat to HDS and EMC, industry observers say.
Roberson admitted that the HP-Compaq merger casts some degree of uncertainty on the HDS-HP relationship. "We hope, if anything, it will increase our business with them as we get access to Compaq's installed base with our technology," he said. "Compaq doesn't really have a good high-end [storage answer. Hopefully they can put the StorageWorks products together with our high-end [offerings and end up with a much stronger business with us."
The future of the HDS-Sun relationship remains cloudy, too, observers say. Although Sun executives and channel partners credit HDS with helping Sun snatch enterprise business from EMC, Sun and HDS compete directly in the midrange space.
Hank Johnson, vice president of the enterprise partner services group at Stonebridge Technologies, a Dallas-based solution provider, said Sun and its channel partners have had tremendous success with HDS storage. "It's like the dam burst. We have a lot of hungry sales reps who have lost business to EMC. Now we're winning," Johnson said.
Yet HDS' multipronged attack on EMC via vendor, OEM and solution provider channels has some partners wondering if Hitachi-HDS is diluting the value of its own brand. One solution provider executive who declined to give his name said HDS has become a "much more diminished" partner than it was in the past because of its reseller arrangement with Sun.
"The minute [HDS signed Sun, there was a sea change in their view of the channel," the solution provider said. "You couldn't find a Hitachi sales rep in a channel rep's office."
Another solution provider executive requesting anonymity said HDS offers channel partners fair access to deals but may foster overdistribution with its multichannel approach. Because HDS' local sales office lacks presales support, "it takes the margins straight down to where you can't make a living off it to sustain any overhead for a reputable integrator, because the mom-and-pop shops are willing to do it at five-point margins," he said.
If there's a perception that HDS focuses on its Sun business at the expense of its business with the solution provider channel, it's unintentional, said Roberson. More than 60 percent of HDS' business is done under its own brand name, he said.
"We want to keep it that way," Roberson said. "We like the Sun relationship. We like the HP relationship. But those may not last forever. We'd certainly like them to last forever, but nothing lasts forever in this business. So it's really important for us to keep the strong customer ties with our direct-sales force and our channel as we move forward. We're willing to pay for our folks to work with [channel partners so that, ideally, we have the relationship if and when things change in the future."
Printer-friendly version
Email this CRN article