Interested in digital signage? Don't forget to look at the big picture. Yes, there are challenges, but for those offering a full solution, the rewards can be great.
Printer-friendly version
Email this CRN article
John DeRocker and his crew at Nexus Information Systems joined heads at a recent think-tank meeting to brainstorm opportunities in the emerging digital signage market. Out of the hundreds of clients Nexus serves, the team concluded all but a dozen are candidates for some type of digital signage or public display solution.
"A digital signage solution can go just about anywhere: hospitals, casinos, restaurants, banks, corporate environments, trade shows, museums, airports, movie theaters," said DeRocker, vice president of sales and marketing at the Plymouth, Minn.-based solution provider. "It's anyplace where the client had previously posted some type of printed material or static presentation."
Robust, turnkey software packages; lower-priced high-performance LCD and plasma displays; customer interest; defined ROI; deeper solutions; and 20- to 50-plus-point margins have emerged to bring the once-fuzzy world of digital signage and public displays into sharper focus for solution providers, distributors, manufacturers and, of course, end users.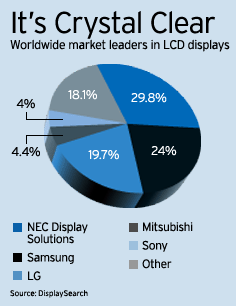 On top of all that, as DeRocker and most everyone else involved in the market says, potential opportunities for digital signage and public display solutions—from the most basic single-screen solution in a small retail store to a hundred-screen deployment in a large stadium—are just about anywhere you look. By 2009, research firms DisplaySearch and Frost and Sullivan expect digital signage solutions to fuel $2 billion in revenue, with the amount of displays deployed more than doubling to 900,000 from 433,000 last year.
"I think we're really on the edge of huge growth in the public display sector," said John Kaloukian, general manager of professional displays at Sony, which, like other display manufacturers such as NEC Display Solutions, Toshiba, Samsung, SVX, Planar and LG, continues to add new signage and kiosk features to its displays and bundled software. "But it's not just about selling a box; it's about selling the full solution."
With most product margin in the miserable single digits, the only way to make money in digital signage is through the sale of a full solution. Products can include screens, projectors, cabling, wired and wireless routers, hubs, switches, PCs, servers, media players, mounts, stands and cabinetry. Software includes scheduling and content distribution and creation suites, and full network security packages. On the services side, there is deep consulting (which has
little to do with technology); content creation; and managed services, including remote management, security and firmware updates, content changes and scheduling. Certainly not least, the majority of clients solution providers already serve are candidates for some type of digital signage solution.
"My question is, 'Why wouldn't a solution provider want to get into this area?' " said Lynn Hudgeons, president of Turning Point Solutions, Pineville, La., and a member of Ingram Micro's VentureTech Network. For the past few years, Hudgeons has tried to convince his colleagues of the new signage opportunities, but until recently had met with little success.
"The thing that throws most folks a curve is that they hear digital signage and they still think of static signs and billboards, but that's not what it's about," he said. "If the solution provider has lived up to the role of a trusted adviser, who else is the client going to turn to but the company that works on their network? We can roll all these things into the services we already provide."
Many solution providers are overcoming the initial challenges—and there are many—of entering the digital signage market by doing just that: combining their core competencies with newly learned skills and fresh partnerships.
Hudgeons, for example, was called in by a hospital to fix a 15-display signage solution, previously installed by an audio/video integrator, that wouldn't support popular Web browsers and content development tools. Every time the hospital administrators wanted to change a message, they had to call the installer. Hudgeons, working closely with Ingram Micro and NEC Display Solutions, installed a remotely managed Microsoft-based infrastructure, which allows him to monitor the system and provide security and software upgrades and enables the administrators to changes messages on all monitors with a touch of a button. The hospital is now Hudgeons' full-time client.
"We mentioned managed services from the beginning and wound up with a decent contract that allowed us to work with the client on an ongoing basis," he said.
Nexus also fell into signage by accident, before deciding it would be a key vertical practice. About a year ago, one of its big NEC Display Solutions customers, a large casino in Minnesota, asked Nexus to install display solutions at the ends of each row of slot machines to advertise the buffet, entertainment or big winners at different times of the day. It took Nexus about eight months to figure out the solution—from interviewing the marketing department to finding the right software—before closing the million-dollar deal. DeRocker hopes to close 100 more deals of varying sizes during the next 12 months. "It's not rocket science because the software is so good," DeRocker said, adding that he chose software from Wireless Ronin Technologies because it was compatible with a snap-in application designed for casinos. "Once you figure out how to do it, it's a slam dunk, especially when you prove ROI."
There are many different solution providers with success stories, but they include similar challenges and processes. To illustrate ROI, DeRocker asks his clients how much they spend on print signage, promotions and advertising. Say it comes out to $150,000 a month. DeRocker estimates he can substitute the print signage with a fully managed digital solution for $10,000 a month and, based on industry figures, guarantee that the client's message will reach the right people to achieve the desired marketing or sales goals. "That's why it's so appealing to the financial officers," he said. "Now they can have a $25,000 administrator oversee the signage instead of supporting a $500,000 marketing department."
Despite the opportunities and familiarity solution providers have with the core technology, other challenges remain. The main one is this: Digital signage is not a technology sale, it is a marketing sale. Almost all sales begin and close with the client's marketing departments. There are very few exceptions to that rule. "It's a totally different sell because it has nothing to do with IT; it has everything to do with marketing," DeRocker said. "The sell is definitely not on the IT side."
Having to work closely with different departments often means a longer sales cycle. "It's definitely a deeper sale. It involves multiple departments," said Phil Ferranti, CEO of The Technology Company in Pittsford, N.Y. "If you don't have buy-in from the marketing and HR departments, it will kill the whole deal. But oftentimes the IT department will see what it can do to help, which is a good thing."
Ferranti said his experience shows that patience will eventually pay off. He began exploring the digital signage market more than three years ago, constantly evangelizing the solutions' benefits to his customers. During the last year, his customers finally began to sign off, bringing in about nine full solution sales, including small retail stores, a three-course golf complex and several departments within the Rochester Institute of Technology. Ferranti has also found success in corporate environments where signage is used to inform "undesked" employees—those without a desktop PC or work on a factory floor—about upcoming events such as flu shots, employee of the month highlights, etc.
"It was a long sales cycle, but also an education process on complete signage solutions and ROI," Ferranti said. "I like to think our success has to do with our persistence, the drop in screen prices and the validation as more people travel and see the solutions in hotels and airports."
There are several other ways successful solution providers win over the marketing departments to close the deal. First and foremost, solution providers must screw on their consulting caps and explore who clients want to reach, where and when they want to reach them, and what type of content they want to reach them with. "This is one of those areas where you shouldn't give any consulting away, because it's such a new area to many customers," Hudgeons said.
The next step is to discuss content. Some large clients might have their own marketing departments, while others may outsource the work. But most marketing departments, inside or outside the client's company, have little experience in creating content optimized for digital signage, especially when it comes to properly incorporating digital photographs and images into the total presentation, solution providers said. That optimization becomes even more important when using wide-screen and high-definition displays.
"The industry got really jammed up with every A/V installer claiming to be signage experts, but you'd see a lot of graphics that were kludgey or the text was falling off the screens," said Glenn Polly, president of VideoSonic Systems, a New York-based signage specialist and A/V integrator who has installed complex signage and presentation solutions at the Intrepid Air, Sea and Space Museum, the National Museum of the American Indian, and the Jewish Museum, all in New York City. "It's really important to have professionally created graphics."
To achieve that, some solution providers with established signage practices, like Polly, hire in-house design specialists who work with professional graphics suites like Adobe Systems'. Others just breaking in turn to their Web designers or use basic content creation tools such as 3M Digital Signage's Network Edition, Scala's InfoChannel software platform, Anode's Firesign, Planar's Clarity, Omnivex's digital signage software solutions, Broadsign's Suite and Wirespring's FireCast, to name a few. Some of those companies will take on the creation aspect, as well as remotely hosting, distributing and scheduling that content.
While choice is often good, it also presents another challenge: picking the right software platform for a particular solution. "One of the most frustrating things in making the transition is that there are so many solutions out there," said Mike White, president and CEO of Multi-Media Solutions, a pro A/V integrator in Tennessee that has been installing digital signage solutions for more than a decade. "That serves as the biggest point of confusion."
Currently, most of the software is sold direct or through small specialty distributors, which some say has hindered the spread of digital signage as a mass solution. The current exception seems to be 3M Digital Signage, which recently partnered with Ingram Micro to sell its Network Edition software. 3M Digital Signage, Bainbridge Island, Wash., also has plans to sell lighter versions of the software, as well as an innovative signage film, which can be cut into any shape, adhered to a storefront window and used as a type of projection screen, through Tech Data and other tier-one distributors, CRN has learned.
"There is still a small network of participants in this market that refer to each other for business leads and help. But we're trying to grow beyond that, to expand into the mass market," said Steve Saxe, a product manager at 3M Digital Signage, adding that the company is currently rolling out education, training and ROI tutorials through Ingram Micro. "We're trying to create more products that are easier to use, highly functional and deliver a real business value to mainstream customers."
Most tier-one distributors, including D&H Distributing and Electrograph, are increasing their focus by bolstering digital signage hardware and software offerings and by adding dedicated divisions.
Ingram Micro, Santa Ana, Calif., plans to launch a Digital Signage Practice Group next year, which will also be open to customers of its AVAD home integration division, said Irene Chow, category manager for digital home and digital signage. Ingram Micro recently conducted a survey that found about 3,000 of its solution provider customers were interested in adding digital signage to their offerings or were already doing it. "Now is the time because the market is taking off," Chow said. "From talking to the resellers that are doing it, their digital signage businesses are growing by double digits."
Tech Data next year will add a pro A/V community to its Tech Select group of solution providers, said Annette Taber, director of the Clearwater, Fla.-based distributor's Advanced Technology Group. The distributor will develop an itinerary for 30 handpicked pro A/V integrators, which will also be open to Tech Select IT solution providers so both sides can share best practices and other information. "As a technology enabler, it's our responsibility to assist both sides," Taber said.
Tech Data has about 33 vendors on its digital signage line card with more on the way, but no software vendors. Tom Kramer, a pro A/V account executive at Tech Data, said most of its customers are using Web development applications, such as Adobe's Director MX and Microsoft's FrontPage, or using the software packages bundled with displays to create content and scheduling.
Gary Palenbaum, vice president of product management for Fremont, Calif.-based Synnex's NEXCE home integration and digital signage division, however, feels the right software and content creation partner is an important part of the full solution and is searching for such partners. "It's all very confusing and we're trying to simplify it," he said, adding that Synnex expects to have those vendors in place within 90 days.
After scrubbing the company's databases, Palenbaum found that about 80 percent of the end users the distributor drop-ships to are small businesses, with the majority being candidates for some type of signage solution. "I'm selling a ton of large format displays but not making a ton of money on it, so I want to sell solutions," he said. "Our customers and their customers are asking what else they can do with the displays."
Target Markets
The number of potential deployments in the following segments
POS (Point-Of-Sale) Advertising In Grocery Stores
85,080
Corporate Conference Rooms/Boardrooms
104,325
Flight Information Displays
147,675
Railway/Bus Terminal Displays
52,290
Bus Terminal Displays
43,100
Electronic Menu Boards
830,190
Trade Shows And Trade Show Rental
1,101,268
Shopping Mall Advertising
1,770,080
Museums
133,000
Movie Theater Advertising
121,000
Airport Terminals
44,750
Institutional/Hospitality TV
568,287
Bars And Restaurants  
705,386
Sports Arenas (Luxury Seats)
28,904
Health Clubs
939,050
Source: DisplaySearch
Printer-friendly version
Email this CRN article