Printer-friendly version
Email this CRN article
When an application uses up the storage capacity allocated to it, the typical result has been either crashing of the application or scrambling to add new capacity before that crash happens.
However, solution providers and their customers have found that storage virtualization, and thin provisioning technology in particular, is the ideal way to maintain storage management flexibility and costs.
In traditional storage provisioning, an application is allocated a fixed amount of storage, resulting in an initial underutilization of capacity, with the risk of the application crashing as its data grows toward the capacity threshold.
Thin provisioning, on the other hand, allows a storage administrator to allocate more capacity to specific applications or users than is physically available, under the assumption that not all those applications and users will need the entire allocated space simultaneously. This allows extra physical capacity to be installed at a later date as the total amount of space actually used approaches the current installed capacity.
"Thin provisioning is helping storage administrators break the old habit of overallocating storage, and is probably the most efficient way to reduce storage waste," said Mark Teter, CTO of Advanced Systems Group, a Denver-based storage and server solution provider.
Thin provisioning can yield huge savings by cutting the time and cost of allocating and administering storage, Teter said. "You can now have one storage administrator manage 200 Tbytes of storage," he said. "That's unthinkable without thin provisioning."
There's a definite return on investment with storage thin provisioning, said Pat Edwards, vice president of sales at Alliance Technology Group, a Hanover, Md., VAR.
For instance, Edwards said, it can allow a storage administrator costing $50,000 to $75,000 per year to be repurposed for other projects while cutting the spending on disks.
This is especially true in environments where customer data is growing fast, Edwards said. "The customers you need to pay attention to are those who are growing and have a need for automated management," he said. "If the customer's data is not growing fast, you can go in once in a while and check it. But if it's growing fast, it's a good candidate for thin provisioning."
The big payoff for customers is the ability to defer storage purchases, letting them take advantage of falling per-terabyte prices in the future, Teter said.
Another benefit of thin provisioning is the "green" effect. "By cutting the disk capacity required while increasing disk efficiency, thin provisioning can also cut the carbon footprint of enterprise storage environments," he said.
Because of those benefits, thin provisioning is a fairly easy sell, said Greg Knieriemen, vice president of marketing at Cleveland solution provider Chi. "We can just ask our customers if they've had any downtime when expanding their applications," he said. "For a larger organization, that's a frequent situation with resource-hungry applications."
Thin provisioning can be an excellent tool for managing storage capacity and cost, said Keith Baskin, storage practice manager at Optimus Solutions, a Norcross, Ga.-based solution provider.
Oracle or SAP testing and development is a good application for thin provisioning because of a need for temporary storage space, Baskin said. However, the technology can also be dangerous when not used properly, he noted.
The biggest potential problem with thin provisioning is when it is used with Microsoft Windows NT File System, Baskin said. Files marked as deleted still maintain their original position. When an application saves new data in NTFS, it looks for unused data blocks, passing over "deleted" blocks in favor of blocks in which no data has been written.
Thin provisioning is not for every customer, said Rolf Strasheim, director of client solutions at Peak UpTime, a Tulsa, Okla.-based solution provider. For instance, it is not suitable for customers who do charge-backs based on storage capacity, Strasheim said.
Also, it is not a set-it-and-forget-it technology, Strasheim said. "If you put in thin provisioning and then walk away, it'll get you," he said. "It's not for clients that don't watch their storage. Thin provisioning notifies users as their capacity gets filled. But if they ignore the warnings, they'll drive right into a brick wall."
Thin provisioning, over time, will become more of a standard feature, Edwards said. "I don't know of any technology that could mitigate the need for thin provisioning," he said. "How can you discount a technology which gives customers more for less?"
Solution providers can choose from a variety of storage virtualization products offering some form of capacity management. The CRN Test Center examined solutions from four popular vendors to see how they stack up.
Next: Methodology
Methodology
Storage virtualization, despite having the v-word in its name, is not purely a software offering. The virtualization software has to interact with some kind of storage device, whether it's a SAN, NAS, some other kind of a RAID array, or some combination of the three. While there are some software products that are appliance-agnostic, most vendors bundle the virtualization software with their own storage. In order to make a fair comparison, CRN Test Center reviewers focused on each product's management interface, but noted the products that came with their own storage box.
On each product, reviewers first created a large (somewhere from 1-Gbyte to 50-Gbyte) virtual disk. After noting the exact amount of space the virtual drive actually used, reviewers copied a large folder (somewhere from 500 Mbytes to 2 Gbytes) with mixed file types—documents, images, sound and executables—from the client machine's local drive to the virtual drive. Fast jobs were noted, even though they weren't timed. Finally, the extra steps, such as starting Microsoft's iSCSI Software Initiator tool or using Windows Disk Management to format the drive, were all carefully noted.
All four storage products supported a laundry list of features other than thin provisioning. However, reviewers focused on the software's ability to fool applications into thinking they have more storage capacity than is actually available at that moment in time, as well as the software's ability to add extra capacity dynamically when needed.
CRN Test Center reviewers considered how these technologies can be deployed in a small data center. They looked at ease of installation, features, profit potential, ease of use and available management capabilities. Part market survey and part comparative review, the Test Center focused on the deployment activities and management options solution providers should be considering when designing the customer's storage solution.
Reviewers configured and installed two storage virtualization products—FalconStor Software's Network Storage Server (NSS-S12) appliance and EqualLogic's PS3900XV storage array—and looked at the Universal Storage Platform V from Hitachi Data Systems and Compellent Storage Center.
FalconStor Network Storage Server (NSS-S12)
The FalconStor Network Storage Server (NSS-S12) impressed reviewers with its quick setup, easy-to-use interface and flexible solution. Being a software solution, the application can work on various storage appliances. FalconStor provided the Test Center with an IPStor storage server appliance and a client machine running Microsoft iSCSI Software Initiator. The IPStor appliance was configured with internal resources available for storage virtualization. Along with the Microsoft iSCSI Software Initiator, the client machine also had a COD (Capacity on Demand) agent for Windows, which is also provided on the CD that comes with IPStor.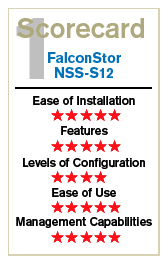 FalconStor uses thin provisioning and COD to avoid storage underutilization. It also supports snapshots and disk clones using TimeMark and TimeView. The appliances, which come with three years of technical support, start at $19,000, making this the cheapest solution on this list.
There are two types of software support: standard and gold. Standard includes live support during standard business hours, and access to the online support site and knowledgebase. Gold extends support 24x7, 365 days a year, including holidays.
With IPStor, a single pool of storage is provisioned as multiple client hosts. This is clearly laid out in a tree format in the Java management interface. Each client sees the full size of provisioned disk while actually using a much smaller amount of storage. The system supports dynamic disk expansion, and COD handles memory, CPU and storage overhead nondisruptively as needed. Compression is also available to reduce space. Microsoft iSCSI Software Initiator automatically detected and added LUNs, mapping it to a client.
FalconStor has three levels in its program, Associate, Premier and Elite, with annual revenue targets for each. Associate partners must have up to $350,000 in annual FalconStor product sales, Premier partners up to $750,000, and Elite partners must have over $750,000 in annual FalconStor product sales. While joining the program is free, partners must have at least two employees fully certified in at least one FalconStor solution.
All partners, regardless of level, receive sales support, marketing tools and technical help, along with sales and technical training. Elite partners are automatically eligible for reimbursement. Premier partners are also eligible for MDF, pending review and approval of specific projects. Partners can expect to achieve margins of between 30 and 40 percent. Elite partners can also use rebates to generate revenue, based on quarterly business growth and stretch goals.
Next: EqualLogic PS3900XV Storage Array
EqualLogic PS3900XV Storage Array
EqualLogic PS3900XV storage array automates key functions needed to configure, manage and scale storage.
As a buy-as-you-grow storage device, the automation makes administration much more seamless. The PS3900XV can turn thin provisioning on and off as needed for any volume.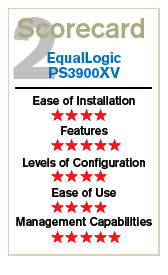 The storage array uses 15,000 RPM Serial Attached SCSI disk drives to deliver high performance. The 16-drive chassis is an iSCSI SAN with 4.8 Tbytes of storage. EqualLogic's architecture supports mixing and matching storage arrays into one storage pool and administering them from one console application. The user interface is the same Java application found on other EqualLogic arrays. Configuration rules can be defined to decide which volumes exist on which array. This way, physical space can be easily added as needed.
EqualLogic, which is being acquired by Dell, offers complete SAN virtualization, automatic load balancing, automatic online storage pools, snapshots and replication, multi-path I/O, consistency sets and automatic storage tiering. The software management tool can set up group managers and offers rapid provisioning. The role-based management is a good feature to consider. From the management interface, user-defined threshold alarms can be defined to monitor the physical space. The interface also allows setting controls on automatic space allocation to reduce the risk of overprovisioning.
With a list price of $67,000, the EqualLogic PS3900XV storage array is the most expensive solution on this short list. However, EqualLogic doesn't have license fees or any other hidden costs. Partners can expect 37-percent margins on the pure-play software appliance. Some partners have developed disaster-recovery solutions and other advanced solutions on top of the platform for additional revenue opportunities.
EqualLogic had the best warranty offering of the four vendors: All PS Series arrays are sold with a limited warranty that includes two years telephone support, one year software maintenance and updates, and two years hardware warranty.
While there are no entry requirements for the two-tier program, preferred business partners must have a certified sales engineer and a technical support person, and achieve at least $200,000 in annual revenue. EqualLogic preferred partners have access to a 90-day deal registration site. The protected access portal provides the same information to partners as it does to EqualLogic's sales representatives.
Hitachi Universal Storage Platform V
The Universal Storage Platform V from Hitachi Data Systems features software capable of managing a pool of virtualized storage capacity up to 247 Pbytes. This kind of capacity eliminates customer worries over storage constraints when consolidating data centers into a single geographic location.
Hitachi also supports large logical storage pools, which enable hundreds of disk drives to simultaneously operate on a single input/output request. At this time, the USP-V is a Fibre Channel system.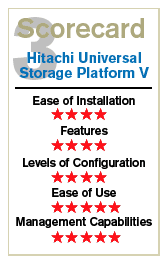 Unlike striped logical devices on other storage systems, Hitachi Dynamic Provisioning software ensures that disk array groups may be of RAID levels 10, 5 and 6, providing customers with maximum flexibility across their storage deployments. The Universal Volume Manager software enables greater capacity using virtualization. The system can be configured to send Phone Home or e-mail notification messages about the unit's health, such as storage space running low.
Hitachi's solution is not tied exclusively to its physical storage system. The software recently added external vendor support, which is unlocked by purchasing a software license key. Hitachi's USP-V high-end disk array can thin-provision volumes on competitors' disk arrays as long as they are attached to its controller as external storage. Thin provisioning on competitors' volumes works the same way as heterogenous virtualization. To external storage systems, the controller looks like a Windows host, so it's allowed to provision and control LUNs on that array. Because it's not dependent on competitors' APIs, this method works with any third-party system the USP-V can already virtualize, including EMC's Symmetrix and Clariion lines, and Hewlett-Packard's EVAs.
The channel program has three tiers and there are no fees for joining. However, partners do have to meet annual revenue commitments and maintain the necessary technical certifications. Partners also should have a technology specialty and vertical market expertise. Hitachi offers partners low-interest financing, spiffs, rebates, loaner and demo units, and discount promotions. There is a deal registration site. MDF and cooperative marketing is also available.
Next: Compellent Storage Center
Compellent Storage Center
The Compellent SAN setup Test Center reviewers looked at had a 4-Gbps Fibre Channel connectivity. Compellent does offer iSCSI support.The Compellent Storage Center features automated tiered storage at the block level, thin provisioning, local and remote replication and continuous snapshots, remote replication over IP, and automated boot from SAN under its default configuration. The company offers a three-year warranty.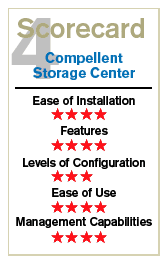 A typical configuration starts at about $49,500 with single storage controller and 6.4 TBytes of disk space. The interface is license-driven, in that the license "unlocks" various features on the interface. It must be noted, however, that Compellent's software and interface work only on Compellent hardware. The company does not plan on supporting external hardware solutions at this time. This can be a positive point for customers new to storage administration, but would be a negative point for customers that already have a different vendor's SAN or other storage products in-house.
Storage Center comes in two pieces: a Storage Center appliance and a multidrive enclosure. The enclosure supports both Fibre Channel and SATA drives. A single Storage Center appliance can be used for multiple enclosures, or dual controllers for redundancy.
The Compellent interface is white and clean-looking with a variety of built-in features. Virtually any setting made during deployment, such as RAID levels, number of tiers and volume size, can be changed later without reconfiguring the existing volumes. Along with being able to change volume RAID level on the fly, Compellent supports virtual volumes spanning across multiple partitions. The ILM tool provides automatic migration of data from first- to second- or third-tier storage. Reviewers liked the option of using VMware to provision servers from one environment to another, to minimize and simplify the migration path.
The channel partner program has only one tier and there are no requirements for joining the program. The vendor offers training every two weeks, and certification is also required. The Compellent Storage Center offers the flexibility of both iSCSI and Fibre Channel connectivity integrated into a single storage platform.Compellent offers partners MDF, deal registration and protection, and training. Partners have the option of providing their own service programs to end users or bundling in Compellent Copilot Technical Support, which includes services for break-fix problem resolution and maintenance. Also, Copilot Optimize is a package of proactive services designed to improve system utilization and performance for optional managed services.
The Bottom Line
All four vendors handled thin provisioning as advertised, with some significant differences. FalconStor won points for providing maximum flexibility. Even though the Network Storage Server came to the lab on an IPStor appliance, the software can be used with a box from any vendor. EqualLogic's PS3900XV and Hitachi's Universal Storage Platform V had equally compelling solutions, from EqualLogic's buy-as-you-grow feature and roles-based management, to Hitachi supporting thin-provisioning on competitors' disk arrays.
EqualLogic edged out Hitachi on the channel front with its promise of no additional license fees or any other hidden costs. Compellent doesn't have a strong enough channel program to compensate for locking the software to the hardware. While the offering fits solution providers wanting to sell all-in-one units, it doesn't offer any flexibility to the rest of the channel.
Next: Seven Key Players In Storage Virtualization
SEVEN KEY PLAYERS IN STORAGE VIRTUALIZATION


COMPANY: Compellent
Eden Prairie, Minn.
(952) 294-3300
www.compellent.com

KEY PRODUCT:

The Compellent Storage Center SAN delivers automated tiered block storage, thin provisioning, and continuous snapshots through the QuickStart ILM bundle. This SAN supports both iSCSI and Fibre Channel. The solution consists of a controller and a rack enclosure. The software works only on Compellent hardware. The solution also allows remote application over IP.

CHANNEL POINTS:

All Compellent partners receive MDF, deal registration and protection and training. Partners can offer "repetitive" revenue" opportunities such as upgrades and adding capacity. There are fees associated with training. Compellent does not sell through distributors. For technical support, partners can provide their own service programs or bundle Compellent Copilot Technical Support Services.
COMPANY: EMC
Hopkinton, Mass.
(508) 435-1000
www.emc.com

KEY PRODUCT:

Both the multiprotocol Celerra NS20 and the enhanced Celerra NS40 systems can simultaneously connect to multiple types of storage networks (iSCSI, Fibre Channel, and NAS). Automated volume management with thin provisioning capabilities ensures that storage capacity can be allocated quickly, with only a few mouse clicks. EMC said the rest of the product line would support thin provisioning in 2008.

CHANNEL POINTS:

There are four tiers in the program with more than 1,800 registered partners in North America. There are no fees to join, but partners have to meet annual revenue targets and technical certification requirements. Partners have access to low-interest financing, SPIFs, rebates, deal registration, loaner and demo units, price protection plans, discount promotions, tiered discounts and MDF.
COMPANY: EqualLogic
Nashua, N.H.
(603) 579-9762
www.equallogic.com KEY PRODUCT: EqualLogic PS3900XV storage array's thin provisioning capability offers safety controls and flexibility. The buy-as-you-grow product also automates the functions needed to configure, manage, and scale storage. Thin provisioning can be turned on and off on the volume when needed. The PS Series supports user-defined threshold alarms and space allocation controls.

CHANNEL POINTS:

Preferred channel partners are required to have at least $200,000 a year in revenue, one certified sales person and one certified technical person on staff, and purchase a demo unit. In return, EqualLogic offers preferred partners a 90-Day Deal Registration Protection program, MDF, access to marketing and sales tools and direct priority technical support.
COMPANY: FalconStor
Melville, N.Y.
(631) 777-5188
www.falconstor.com

KEY PRODUCT:

FalconStor Network Storage Server is a software solution that works with iSCSI and Fibre Channel SANs as well as with a NAS. Along with thin provisioning capabilities, NSS also provides heterogeneous storage management. The data snapshots taken by the built-in FalconStor TimeMark functionality can be used to for data protection and recovery

CHANNEL POINTS:

Premier channel partners are required to have annual revenue of $350,000 to $750,000 from FalconStor product sales. A minimum of two employees must become fully certified in at least one FalconStor solution. In return, Elite partners can make more money through rebates, based on quarterly business growth and stretch goals. The company also offers sales support and marketing tools. Premier partners may also be eligible for MDF, based on review.
COMPANY: Hitachi Data Systems
Santa Clara, Calif.
(408) 970-1000
www.hds.com

KEY PRODUCT: The Universal Storage Platform V features software capable of managing a pool of virtualized storage capacity up to 247 Pbytes. USP V can also create large logical storage pools, allowing hundreds of disk drives to simultaneously operate on a single I/O request. The USP V is a unified storage product with thin provisioning enabled by a license key.

CHANNEL POINTS:

With three tiers and about 525 registered North American partners, Hitachi Data Systems offers low-interest financing, SPIFs, rebates, deal registration and MDF to partners. While there is no fee to join the program, partners must meet annual revenue targets and technical certification requirements. Partners must also have a technology specialty and vertical market expertise.
COMPANY: NetApp
Sunnyvale, Calif
(408) 822-6000
www.netapp.com

KEY PRODUCT: NetApp's V3000 series can have capacity as high as 250 Tbytes and can deliver across both the SAN and NAS. The company's Data ONTAP operating system has a FlexVol feature that creates volumes that can be readily expanded or contracted and conserves capacity by avoiding over-provisioning.

CHANNEL POINTS:

NetApp partners fall into the following tiers: Star, Platinum Elite, Platinum, Gold, and Authorized. While there is no fee to join the program, each level has its own revenue and training requirements. Partners are encouraged to have a technology specialty and vertical market expertise. Partners can download training and marketing resources and register deals through the portal.
COMPANY: Pillar Data
San Jose, Calif
(408) 503-4000
www.pillardata.com

KEY PRODUCT: Startup Pillar Data's Axiom series feature SAN and NAS in a single platform. The low-cost solution provides multi-tiered application-specific quality of service on a single storage pool.

CHANNEL POINTS:

While there is no fee for partners to join the two-tier program, partners should have a technology specialty, be able to meet annual revenue targets and obtain technology certification. Existing Data Storage certifications may be accepted. The company also has a Pillar Executive VAR Council. Pillar Data Systems offer presales and postsales support and technical support.
Printer-friendly version
Email this CRN article