Make use of server virtualization to protect clients' environments
Printer-friendly version
Email this CRN article
A boom in the adoption of server virtualization technology is both fueling and being fueled by increased channel sales and implementation of disaster-recovery solutions, according to solution providers and vendors. That trend was corroborated by an exclusive CMP Channel study on virtualization.
The study, based on a survey of solution providers conducted in November by CMP Channel, found that nearly half of solution providers expect disaster recovery to be the most important server virtualization market driver, 35 percent expect lower costs and higher economies of scale to be the key driver, and 33 percent expect increased flexibility in server resource allocation as the top market factor.
Solution providers said they expect disaster-recovery solutions will be a part of approximately 72 percent of all their server virtualization sales and implementations.
This number comes just as the adoption of server virtualization is poised to boom. Research firm IDC late last year estimated that the deployment of virtual servers will rise 40.6 percent annually through 2010, resulting in 7.9 million virtual servers implemented on top of 1.7 million physical servers by then.
Server virtualization is also one of the fastest-growing markets for solution providers, according to the CMP Channel 2008 State of the Market study. In those results, nearly 23 percent of solution providers surveyed indicated that they are already selling or recommending virtualization products of some sort, including server and/or storage virtualization.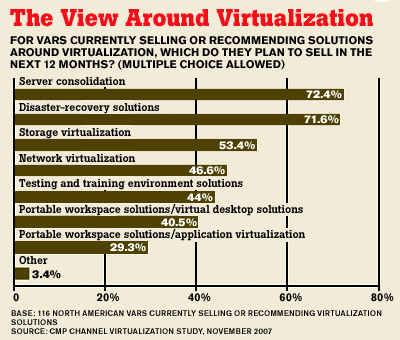 Next: The Nuts And Bolts Of Disaster Recovery
The Nuts And Bolts Of Disaster Recovery
Traditional disaster-recovery scenarios typically require one of two methods for protecting a company's IT infrastructure.
One method is to duplicate the customer's storage and server infrastructure at a remote site so that it can take over in case the primary site goes down. This is a costly solution, as it requires an investment in duplicate storage and server hardware and related maintenance costs.
The second method is to contract with third-party service providers to have capacity available at a remote site in case the primary site goes down. But this method has fallen out of favor as fewer and fewer companies can afford the downtime for their business.
Server virtualization, however, allows multiple virtual servers to be prepared on top of a few physical servers at a remote site in order to take over mission-critical operations while the primary site is repaired or replaced.
This solution can be combined with virtual storage solutions, which allow the replication of data to alternate storage devices. Doing so allows dynamic expansion of capacities to further add flexibility and cut costs—which is the key step in helping solution providers bring disaster-recovery technology to the midmarket and even to smaller customers.
It is important to test such solutions carefully, as virtual server and storage infrastructure performance and service-level guarantees will typically differ from running IT on physical servers and storage arrays.
Server consolidation is most frequently the first area where virtualization is applied, with more solutions such as disaster recovery gradually added over time, said Stan Staszak, director of System i and System x for Sirius Computer Solutions Inc., a San Antonio-based IBM solution provider.
"If we are presenting a solution for a customer, we like to look at all those different parts," Staszak said. "But maybe it's too much to bite all at one time. So we start with server consolidation, and then talk about the others in phases."
Pat Edwards, vice president of sales at Alliance Technology Group Inc., a Hanover, Md.-based solution provider, said his customers are using server virtualization to consolidate four to six smaller servers into one.
"This lets them virtualize their disaster-recovery environment," Edwards said. "Where before they might need four to five servers at a remote site, they can now go with two servers, which lowers the cost of the entire environment."
Despite the virtualization push, traditional clustering and replication are still the technologies of choice for disaster recovery for tier-one applications, said Chris Taylor, director of professional services and solution sales for Evolving Solutions, a Hamel, Minn.-based solution provider.
"For tier-two and tier-three applications, we're seeing a virtualization play," Taylor said. "Using a virtual environment to duplicate a physical environment works. But you need to look at SLAs [service level agreements]. You don't have four nines or five nines of reliability with virtual environments."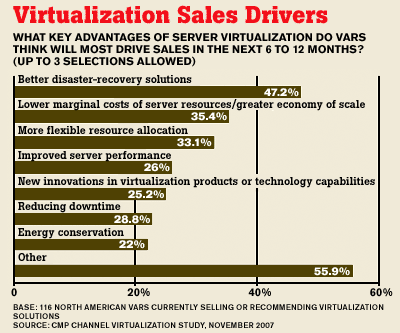 Printer-friendly version
Email this CRN article