Printer-friendly version
Email this CRN article
CUSTOMer Satisfaction - Top System Builder Techniques You Need To Know
Want to learn the tricks and methods top system builders are using today to deliver high-performance, custom computer systems that consistently lead to customer satisfaction? Join CMP Channel Senior Technology Analyst Frank J. Ohlhorst as he spearheads this insightful new NetSeminar where you'll learn to build tomorrow's systems today with technologies that future-proof upgrades.
Don't miss this live event as Frank clues you in on:
• Profitable add-ons for system builders

• Proper integration tips and practices. (It's the platform stupid!)
• Maintaining customer satisfaction by balancing price and performance.
• Leveraging performance per watt by measuring up CPUs
• Building success by using successful vendors (What's in a name?)

• Identifying vendors that can help protect your bottom line.
Reserve your virtual seat for the live event on Tuesday, August 14th at 11 am pt/2 pm et to ask your questions in real-time.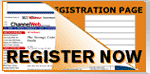 Printer-friendly version
Email this CRN article