Printer-friendly version
Email this CRN article
SMB customers covet enterprise-level solutions for their automation of network management and security, but downgrade their expectations because they can't handle the complexity or premium price.
SMB customers will be unable to find a downside when you show them that cloud-managed networking can do all of the above with a lower initial outlay of cash and lower ongoing costs, yet allow them to manage their distributed network themselves from anywhere if they so choose.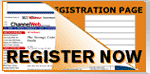 In this ChannelCast you'll discover:
The market opportunity for automating the management of SMB networks from the cloud and how you can leverage it'
Cloud-managed network devices are cost-effective to deploy and profitable to manage, providing recurring revenue and high margins
Products for cloud management of Wi-Fi, network security, persistent onscreen help-desk or promotional communications, and scalable and resilient Internet connections
The long-term vision of unified networking as a service
Join Dan Neel, Market Expert, Everything Channel, Patrick Piwowarczyk, Vice President, United States Enterprise & Channel Sales, D-Link, and Kevin Lahm, Associate Vice President, North America Field Systems Engineers, D-Link, on December 7th at 11:00 am Pacific/2:00 pm Eastern for this live, interactive ChannelCast.
Make sure to join live and ask your questions in real time!
Printer-friendly version
Email this CRN article