Printer-friendly version
Email this CRN article
Its one thing to understand how cloud computing is transforming the IT channel. But the profit is in figuring out how to sell cloud services that your customers trust. There really is a step-by-step way to begin delivering practical cloud solutions to customers with a program that trains, supports, and helps you market your services at a significant margin. Discover how you can easily begin selling cloud-based productivity and collaboration solutions by attending this free, interactive ChannelCast.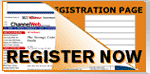 Based on proven cloud-based solutions that Google is delivering today, you'll get actionable insight into:
How to successfully market cloud services to SMB customers.
How to better manage and grow customer accounts.
How collaboration tools can help upsell new IT services.
How to increase sales volume and keep end-user costs low.
Please join Channel Market Expert Dan Neel and Google Apps'Channel Program Manager Jeff Ragusa on December 9th at 11:00 am Pacific/2:00 pm Eastern for this live ChannelCast. Attend live and ask your questions in real time!
Printer-friendly version
Email this CRN article