Printer-friendly version
Email this CRN article
Whether you're new to managed services, or a seasoned vet, you probably realize the days of only managing and monitoring a customer's network are short lived. Innovative MSPs are adapting their businesses to meet tomorrow's demand today. That means adding new services, new value and in many cases moving customers to cloud-based environments to enjoy further benefits and increase your own profitability.
Join Scott Campbell, Everything Channel, Jacob Kazakevich, President and CTO of OS33, Alex Sulpizi,
President of Amnet Technology Solutions, and Jeff Grace, President and CEO of NetEffect, as they discuss:
'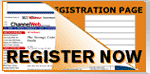 Why now is the right time to start building or moving your managed services practice
to the cloud.
The benefits and roadmap to leverage managed services and the cloud into your business model
What you need to know when shaping your cloud strategy
How to overcome challenges you might encounter along the way

Join this ChannelCast live on March 2 at 11:00 am Pacific/2:00 pm Eastern and then get your chance to ask questions in real time!
Printer-friendly version
Email this CRN article