Printer-friendly version
Email this CRN article
Cooling systems, often omitted from server and storage proposals, are required for improving performance, availability and efficiency of IT equipment – and can significantly boost reseller profit margins. Businesses that do not adequately plan for cooling in their data center experience escalating energy costs or even worse, system failure. Stay ahead of the competition and be the first to offer your customers a holistic cooling solution. New infrastructure management software and cooling technologies give organizations the insight and control required to effectively manage a high density environment.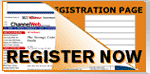 After this ChannelCast, you'll understand:
The state of data center cooling and how it can benefit nearly any business
The importance of cooling in today's high density data centers and what technologies are available
How to position and sell the value of infrastructure management software and cooling solutions to new and existing customers
Register now for this live event, which takes place Wednesday, June 30th at 11 am PST/2 pm EST. Join Edward J. Correia, CRN Test Center Technical Editor, Tom Karabinos, Dir. Partner Channels, Emerson Network Power, and Tracy Collins, Director, Reseller Sales, Avocent. Ask your questions in real time!
Printer-friendly version
Email this CRN article