Printer-friendly version
Email this CRN article
Effective data center management combines good software with some good old common sense. Such wisdom--and the extra revenue that comes with it--are well within reach of most resellers. In this one-hour interactive ChannelCast, you'll learn techniques and best practices for running an efficient data center, how to spot problem areas and the means to correct them. These include managing the distribution of compute and power assets, containment of cooling infrastructure, and arrangement of equipment racks for effective heat rejection.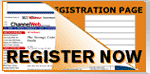 This session will teach you how turn your customer's data center problems into consulting income for you and energy savings for them. After this ChannelCast, you'll understand how to:
Determine when a cooling efficiency audit would be beneficial
Leverage your role as trusted advisor
Demonstrate how technology can help save money
Join Eddie Correia, CRN Test Center Technical Editor, Tom Karabinos, Director, Partner Channels, Emerson Network Power, and Tracy Collins, Director, Avocent Reseller Sales, Emerson Network Power, on September 21st at 11:00 am Pacific/2:00 pm Eastern. Attend live and ask your questions in real time!
Printer-friendly version
Email this CRN article