Printer-friendly version
Email this CRN article
A little common sense can go a long way toward boosting your bottom line. This is particularly true in the data center. Once major data center availability issues have been eliminated, resellers can begin to focus with customers on ways to minimize power and cooling costs without decreasing data center up time. High availability and data center efficiency are not mutually exclusive, and both can be employed with a few simple techniques that will have you looking like a hero to your customers and empower them to maintain and improve on their own.
During this ChannelCast you'll learn techniques for running an efficient data center, how to spot power and cooling inefficiencies and some easy correction methods. In just one hour, you'll learn proven and efficient methods for distributing assets, isolating hot and cold areas, and arranging equipment racks for the most effective heat rejection.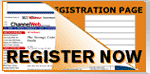 After this ChannelCast, you'll understand how to:
Perform a cooling efficiency audit
Use expertise and technology to reduce energy costs
Boost your bottom line with common sense solutions
Turn your customer's inefficient data center into consulting income for you and cost savings for them. Help ensure that additions or changes to IT assets in the future will not affect availability and efficiency of data center.
Join Eddie Correia, CRN Test Center Technical Editor, and Philip Fischer, Data Center Business Development Manager, North America, APC, on for this live ChannelCast December 16th, 2010 at 11:00 am Pacific/2:00 pm Eastern. Attend live and ask your questions in real time!
Printer-friendly version
Email this CRN article