Printer-friendly version
Email this CRN article
Strength in Numbers - Your Multi-Vendor Advantage as an MSP
Building your managed services business shouldn't become the painstaking process of adding product after product until a solution stack that works finally appears. Perfecting your MSP platform can happen under budget and ahead of schedule and this unique Channel NetSeminar is here to show you how. Don't miss this rare opportunity to take part in an interactive discussion between a group of leading product and services vendors who'll explain how the components of a successful MSP business can come together quickly, improving the customer experience and speeding time to ROI.
Hosted by CMP Channel MSP expert Dan Neel, this live NetSeminar will explore:
• Integrated MSP product offerings
• Successful MSP deployment and support methods.
• Managed PC rollouts
• Profitable tricks and MSP secrets you won't hear anywhere else.
Reserve your virtual seat for Tuesday, August 7th at 2 pm et/ 11 am pt and ask your questions in real-time.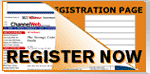 Printer-friendly version
Email this CRN article