Printer-friendly version
Email this CRN article
Are you ready to add a truly new and lucrative business to your portfolio? Create a new annuity revenue stream? Save your customers money? Taking the customer conversation about printers to the higher level of managed print services (MPS) is how to do it. Less than 10 percent of all business printers are under management, and there is a real formula for delivering profitable managed print services that will attract your customers. You'll learn that exact formula during our free, interactive ChannelCast, and soon your customer printer install base could be making you a whole lot more money.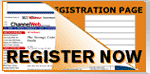 Join Dan Neel, Everything Channel Market Expert, Mike Milligan, VP, Marketing Communications Office Group, Xerox, Jim Salzar, President, DocuAudit International, and Buddy Carpenito, Technology Solutions of America, for this special live ChannelCast at 11 am Pacific/2 pm Eastern where you'll discover:
A real, precise, repeatable formula for delivering managed print (write it down)
Best practices for successfully introducing customers to managed print
How to develop and grow your managed print business from staffing to sales
Attend live and ask your questions in real time!
Printer-friendly version
Email this CRN article