Printer-friendly version
Email this CRN article
Wireless technology grabs the attention of business customers who increasingly see how mobile computing can help them run their businesses more effectively, and at a lower cost. With so many hot issues driving mobile computing - be it wireless security, battery life, Netbook trends, or broadband politics " having the deepest understanding of how the segment is changing can help you generate more business as you deliver more value to your customers. This free interactive NetSeminar aims to help you do just that, so join Everything Channel Market Expert Dan Neel and his guest Jim Mann, Distinguished Technologist, Notebook Strategy & Planning, Personal Systems Group, Hewlett-Packard and Michael Swain, Channel Sales and Marketing Manager, Intel Corporation as they explore: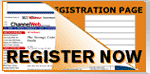 The state of the mobile technology market, in the channel
The latest business customer trends and appetites in mobile computing
Future technologies that can give your customer the wireless edge
A glimpse ahead to where mobile technologies are headed.

Attend live Tuesday, April 14th at 11 am pt/2 pm et and ask your questions in real time.
Printer-friendly version
Email this CRN article