Printer-friendly version
Email this CRN article
When it comes to keeping SMB operations up and running, no disaster is too small to ignore. Whether it's a Gulf of Mexico-sized hurricane crashing through the city or a golf ball-sized hailstone crashing through a server, a disaster leads to potentially huge costs from downtime, lost business opportunities, and overburdened IT personnel working to bring systems back up.
It used to be that preparing for disasters was a major project, one that customers could put off for another day because of all the other pressing issues that needed to be solved first. No more. New tools and technologies are making disaster recovery so simple and inexpensive as to take away any excuses for implementing it.
Join Joseph F. Kovar, CRN Senior Editor, and special guests Kate Lewis, Monica Girolami, and Gina Sheibley from Symantec, as they review the importance of disaster recovery for SMB customers and look ways to make it a key part of every solution provider's product line card.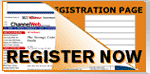 This live ChannelCast takes place March 16th at 11:00 am Pacific/ 2:00 pm Eastern. Make sure to attend live and ask your questions in real time!
Printer-friendly version
Email this CRN article