Printer-friendly version
Email this CRN article
Sun Microsystems is following through on promises to bring the Linux and Solaris operating systems to Intel's x86 platform.
At LinuxWorld in San Francisco this week, the vendor plans to unveil the Sun LX50, a 1U rack-mount server with single or dual Intel Pentium III processors and Sun's Linux distribution. "This is a new hardware direction for us," said Bill Roth, group marketing manager for Sun's Volume Systems Products Group.
The Sun Linux bundle includes Java 2 Standard Edition version 1.4; Sun Streaming Server, an MPEG-4 content delivery application; MySQL, an open-source database; Apache Web software; SNMP-based management agents; and Sun Grid Engine for building computing grids.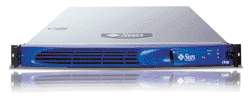 The rack-mount LX50 server comes in single and dual Pentium III versions.
The LX50 Solaris version will initially include Solaris 8 and the SunScreen Firewall application for use at the edge of the network, and Sun Grid Engine can be downloaded, said Ravi Iyer, group marketing manager for Solaris core products at Sun. The Solaris 9 version of the LX50 will feature Sun ONE software as well as the Sun Grid Engine, Iyer said.
Roth said Sun may move the entire Sun ONE software stack to Linux. "We are moving that way. [Sun ONE Web Server has been available [for Linux for some time," he said.
The LX50 starts at $2,795 for a single-processor unit and $5,295 for a dual-processor model, regardless of the software bundle.
The product is slated to be available this month through CDW Computer Centers, Insight, GE Access and other mainstream distribution channels, according to Sun. The LX50 is scheduled to be available with Solaris 8 in late September and Solaris 9 early next year, Sun executives said.
Kip Lindberg, vice president of enterprise sales at Ncell Systems, a solution provider in Minnetonka, Minn., said businesses aren't running to Linux. "If you're looking at low-level blade servers running applications such as Oracle, I don't see Microsoft or Linux doing it," he said.
Keith Trotte, account representative at Sales Strategies, a solution provider in Metuchen, N.J., welcomed Solaris' inception on the x86 platform. "The Solaris side helps us in shops where Windows customers are looking to try other operating systems," he said.
Printer-friendly version
Email this CRN article