Sun's big plans for Linux include recruiting additional SMB VARs
Printer-friendly version
Email this CRN article
Sun Microsystems is recruiting SMB solution providers to sell Linux-based servers and, starting next month, maybe even Linux-based desktops.
Sun, which last week unveiled new entry-level Pentium III-based servers running both Linux and Sun Solaris, is adding new SMB solution providers to drive its Linux strategies, said Peder Ulander, director of marketing for Sun Cobalt. "We need to extend Sun's channel to reflect new products," he said.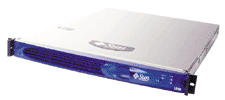 Sun has signed about 1,900 partners for its LX50 x86-based server.
Sun has signed up about 1,900 solution providers worldwide for its new LX50 x86-based server. About one-third of those already sell the company's Cobalt Linux-based appliances, Ulander said. The vendor also plans to sell the servers direct and through its traditional channel, he said.
To attract these new solution providers, Sun is lifting some of the requirements for Sun authorization,including training and certification on Sun SPARC hardware,to make it easier for SMB solution providers to establish relationships with Sun distributors GE Access and MOCA, said Ulander.
GE Access, like Sun, is preparing its first foray into the SMB market, said Anna McDermott, vice president of the distributor's Sun business group.
While Tech Data currently offers Sun Cobalt appliances to its solution providers, "we need to examine that relationship and see how it fits with Sun products," Ulander said. Sun isn't looking to engage small, "mom-and-pop" resellers, said Ulander. He would not estimate how many solution providers Sun wished to engage.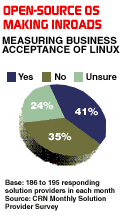 Linda Chiarle, sales executive at MSC Software, a Santa Ana, Calif.-based Sun solution provider, said she sees no problem if Sun develops a new channel to sell its x86 and Linux line, as long as the vendor makes the new products available to all of its channels. "It's OK as long as it doesn't affect its traditional channels," she said.
Sun's sharper focus on the SMB market can only help traditional partners, said Kevin Reith, manager of strategic technology at Info Systems, a Wilmington, Del.-based Sun solution provider. However, despite the big rush to the SMB space by Sun and other vendors, Reith said he believes that eventually, 80 percent of the business will be generated by the 20 percent of solution providers that understand the market.
Scott McNealy, Sun's chairman, president and CEO, hinted during his keynote at last week's LinuxWorld conference in San Francisco that Sun may soon unveil Linux-based desktop PCs. He said the market for Linux on client devices grew 30 percent over the past year, compared with a 5 percent decline in Linux in the server market.
McNealy told LinuxWorld attendees to "stay tuned" for future announcements from Sun about its plans to push Linux onto the client, and applauded the open-source community for "doing things the attorney general couldn't accomplish" to challenge Microsoft's monopoly in desktop operating systems.
"Come to the Sun Network show next month," McNealy told observers at the QandA, when asked repeatedly if Sun was planning to unveil a Linux desktop product. Sun is holding its first Sun Network show here Sept. 18.
At the LX50 launch the day before LinuxWorld kicked off, Jonathan Schwartz, executive vice president of Sun's Software Group, hinted that the vendor also plans to expand its Linux strategy beyond the entry-level server space.
Printer-friendly version
Email this CRN article