Printer-friendly version
Email this CRN article
NetIQ Tuesday plans to expand its offering in the Unix and Linux infrastructure management space with the launch of several new modules for its AppManager product suite.
NetIQ's AppManager line focused solely on the Microsoft Windows platform until earlier this year, when the company rolled out modules to support Sun Solaris, HP-UX, IBM AIX and Red Hat Linux. Now the company is moving deeper into Unix/Linux environments with support for Web infrastructure, including Web servers, applications servers and back-end databases, said David Giannini, director of cross-platform products at NetIQ.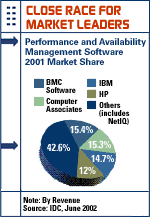 "Many of our existing 2,500 customers have been sold through our channel, so there's an opportunity for our channel partners to up-sell cross-platform monitoring to the existing customer base," Giannini said.
NetIQ, based here, this week plans to ship AppManager modules for BEA Systems' WebLogic Server, Sun ONE Application Server and Sun ONE Web Server, with modules for IBM WebSphere Application Server, IBM DB2 Universal Database, Oracle8i and Tivoli Storage Manager slated to ship by the end of this year, he said.
AppManager uses a single data repository to provide consolidated management across all three operating systems from the same console, Giannini said.
Customers who already use AppManger to manage their NT systems could use the product's expanded capabilities to replace Unix management software from competitors such as Hewlett-Packard, BMC and Computer Associates International, said Philip Keibler, a consultant at Haverstick Consulting, Carmel, Ind.
"Time will tell, but I really think because of the high level of confidence customers have in NetIQ on the NT side, I think it's a good possibility," Keibler said.
NetIQ's new AppManager modules are priced at $1,500 each.
Printer-friendly version
Email this CRN article