Printer-friendly version
Email this CRN article
American Megatrends, a manufacturer of motherboard and storage solutions, released a new Linux- and ATA-based NAS storage system designed for small and midsize businesses and featuring remote management capabilities.
"The new system incorporates all our expertise, from hardware to software, to optimize performance," said Michael Patellis, national sales manager at the Norcross-based company, which rolled out the new package at CMP Media's recent Solution Provider Xchange conference in New Orleans.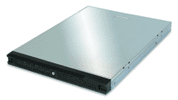 StorTrends 2104 can be configured to include up to four ATA-100/133 drives.
The StorTrends 2104 NAS hardware/software package can be configured to offer up to 1 terabyte of capacity, up to 3 Gbytes of DDR memory and up to four ATA-100/133 drives. The NAS Software 2.0 Linux-based bundle includes support for RAID, active directory services, access control lists, network information systems and hardware health reports. The package costs about $2,299. The platform increases performance 30 percent to 40 percent and lowers the total cost of ownership, Patellis said.
Ted Roberts, general manager of Micromedia, a Greer, S.C.-based solution provider that focuses on video technology and network integration, estimates that he can install and implement a Linux-based NAS for about one-tenth of the cost of a Windows-based solution. "Moving to Linux is a good deal because the cost per seat is much lower," he said.
Moving to ATA-100/133 from SCSI will also save costs and increase performance, Roberts said.
One of the key features of the new software is the SRM Express management station, designed to simplify multiple system monitoring. American Megatrends also released a new version of its MegaRAC, an integrated server management solution that includes the Remote Server Management software package and sells for $499.
The company recently segmented its channel program into Silver, Gold and Platinum levels. Each level includes free training, qualified leads, a dedicated sales rep, joint sales calls, marketing dollars and cash rebates.
"[American Megatrends'] support is excellent," said Dan Butler, director of marketing at DTX, a Melbourne, Fla.-based solution provider that focuses on building custom systems for the health-care market. "We build a lot of systems that require detailed engineering support, and they're one of the only companies to supply us with that."
Printer-friendly version
Email this CRN article