This Week's Subject: Linux For Business
Printer-friendly version
Email this CRN article
Linux continues expanding its presence in the mainstream business market, but certification remains a key issue among solution providers when it comes to Linux's gaining full acceptance in the business market, according to the CRN Monthly Solution Provider Survey.
Over the past year, certification has moved from last to first on the list of five key factors affecting Linux's adoption in the mainstream business market. Factors such as application availability and customer acceptance have declined markedly in terms of being roadblocks to Linux's acceptance, but the percentage of solution providers citing certification as a major impediment increased by 4 percentage points in January 2003 survey compared with the January 2002 survey.
Certification is a more complex issue for Linux than for other technology areas because of the existence and importance of vendor-neutral certifications. CRN's Certification Study, released last fall, shows that certifications from the Linux Professional Institute top the list of certifications that are growing fastest in importance to solution providers. But vendor-specific Linux certifications, such as those from Red Hat, also rank high on this list.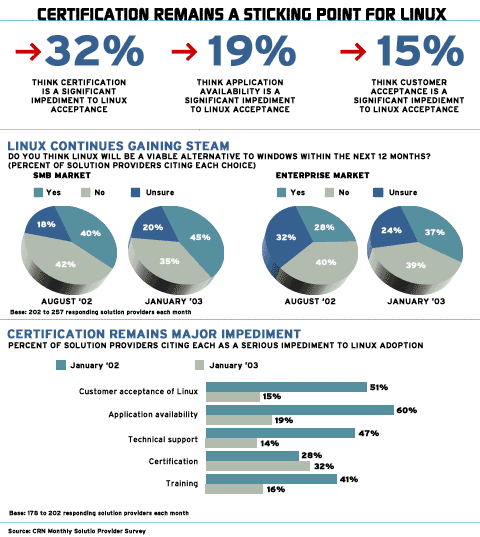 Printer-friendly version
Email this CRN article