Printer-friendly version
Email this CRN article
D&H Distributing is partnering with Computer Associates International to offer CA's eTrust antivirus solution to white-box builders.
The deal marks the first time D&H has offered a software bundle to its System Builder Program solution providers, and also the first time CA has targeted eTrust to systems builders, said executives at both companies.

'We're trying to find vendors that are most applicable to systems builders out there.'
Dan Scwab, vice president of marketing, D&H
"It's a significant opportunity. CA is a leader and has most of Fortune 500 [using] their products," said Dan Schwab, vice president of marketing at Harrisburg, Pa.-based D&H. "They've never gone after systems builders before, as their reputation is more at the enterprise level. This is our first antivirus relationship."
Antivirus software traditionally has been an aftermarket purchase, but bundling the security software with systems lets vendors and their partners get the money up front, said CA and D&H executives.
"Antivirus has not been a category that's been included when you sell a white box, but with all the talk about security and storage, it's become more prevalent," Schwab said. "Now anyone that gets a computer wants to be protected."
The software will be available to D&H's 6,000 systems builders for up to 25 percent off the retail price, Schwab said.
Antivirus software isn't something customers usually request, but it's an important utility in a PC, said Jim Blakley, owner of Computer Renaissance, Killeen, Texas. "If I can get [antivirus software] cheaply, I can bundle it," Blakley said. "There's some advantage to that."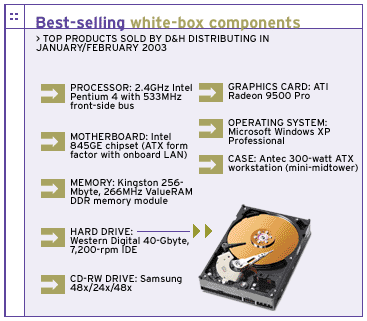 The company recently worked out a deal to OEM McAfee antivirus software but plans to look at CA's solution as well, Blakley said. But eTrust will have to be price-competitive with antivirus products from McAfee or Symantec for systems builders to take it on, he said.
"[CA doesn't] have the name recognition. If I polled 100 guys here, I doubt five would have CA on an antivirus list," Blakley said. "They're going to have to either show that it's a vastly superior product or adjust their OEM pricing. As a systems builder with narrow margins, I can't afford to give up too much."
The D&H partnership is the first fruit borne by a push CA started last year to penetrate the systems-builder market with antivirus and backup solutions, said Alan Komet, eTrust business technologist at CA.
"There's no limitation to what we would put into this program, as long as we feel we could move the product," Komet said. "We looked to partners like D&H for what they think we should move first. If the next product is BrightStor, that's fine. If it's something else, we'll move in that direction."
CA plans to leverage D&H's relationship with NASBA, the Association of System Builders and Integrators, to further penetrate the market. The developer plans to include a special track for systems builders at its July CA World show in Las Vegas. "We're hoping that it will be attended by NASBA members," Komet said.
D&H also hopes to carry additional CA products in the future, Schwab said. "It's logical to offer [these products] at least to systems builders," he said. The distributor also plans to create bundles for systems builders around other software products.
"A logical extension is storage software. The goal is to identify some vendors' [products] that should be with every PC," said Schwab. "If antivirus should have an 100 percent [attach rate], is VPN software 50 percent? Is it 70 percent? We're trying to find vendors that are most applicable to systems builders out there."
Printer-friendly version
Email this CRN article