Printer-friendly version
Email this CRN article
The clutter associated with paper documents is a problem faced by most businesses but is one that offers an opportunity for solution providers willing to deploy the tools to help manage them.
ScanSoft aims to solve the paper-management dilemma with PaperPort Pro 9 Office, a Windows application that converts paper and digital documents to indexed portable document files (PDFs). PaperPort Pro 9 allows for the import of existing documents or Web sites, offers the ability to scan documents via a broad range of compatible scanners and performs optical character recognition (OCR).

Test Center engineers installed PaperPort Pro 9 on two Windows XP systems networked via Windows Small Business Server 2000. Installation was straightforward and uneventful. Scanning chores were accomplished with a Hewlett-Packard LaserJet 3330 Multi Function Printer (MFP).
Solution providers will find PaperPort Pro easy to work with, which should reduce the learning curve. Solution providers will want to target PaperPort Pro 9 at networked users in document-heavy environments such as the legal and insurance markets. The product's ability to share document folders as well as its advanced search capabilities make it ideal for busy smaller offices, where documents need to be found and shared quickly.
In practice, the application uses a folder-based structure, basically emulating a digital file cabinet concept. Users can define and nest folders to best fit the way they work,folders can be created for a case or project or for client information. PaperPort Pro 9's interface lends itself well to that concept.
Users have several options to bring content into PaperPort Pro 9's filing system. During installation, a printer driver is added. That allows any printable item to be sent directly into PaperPort Pro 9, a feature that extends PDF creation to browsers, spreadsheets, e-mails, reports and other digital documents. PaperPort Pro 9 also supports digital cameras, so the software can be used to manage digital photo albums. That feature, combined with the ability to import most any other type of document, offers great benefits to businesses involved in research or investigative practices.
For existing paper documents, users can opt to use the product's integrated scanner support. Users can scan documents directly into PaperPort Pro 9 with any TWAIN- or Windows Image Acquisition (WIA)-compatible scanner. Users have access to additional innovative features, such as thumbnail views and the ability to quickly launch associated applications, including word-processing applications, photo-editing software and e-mail programs.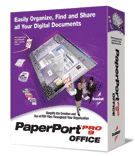 PRODUCT SNAPSHOT
> NAME: PaperPort Pro 9 Office
> PRICE: $199 for full version; $149 for upgrade
> DISTRIBUTORS/INTEGRATORS: Ingram Micro, Tech Data
> COMPANY: ScanSoft
(978) 977-2000
www.scansoft.com
While the obvious key benefit that PaperPort Pro 9 offers is organization, users will also appreciate its inherent communications capabilities. Any filed item can be e-mailed directly from the PaperPort Pro 9 interface, bringing users basic document routing and collaboration features. What's more, all documents can be delivered in PDF format, which enables advanced features such as digital sticky notes and annotations.
Offices using PaperPort Pro 9 will find that the product empowers digital document capabilities with advanced indexing. As the document store grows, users will rely more and more on the product's search capabilities. PaperPort Pro 9 indexes any imported item,the indexes can be based upon captured OCR text or on user-assigned labels (most helpful when working with images). Users can search based on criteria including date, author, document or folder name, and indexed text. Interestingly, PaperPort Pro 9 only allows text-based searches in simple search mode; users should change the program's defaults to automate the use of simple search indexing.
One area in which PaperPort Pro 9 falls short, however, is security. ScanSoft could improve the product vastly by including a document security system,using either a local security policy or integrating with Windows Active Directory.
Another concern: What happens when a business outgrows the features offered by PaperPort Pro 9? ScanSoft addresses the scalability issue by including features that allow solution providers to integrate PaperPort Pro 9 with either Microsoft SharePoint, a portal-based document management system, or with Oracle9i,both of which can support millions of documents. Those integration capabilities allow solution providers to scale document management capabilities to most any size business while using PaperPort Pro 9's intuitive interface as the front end.
PaperPort Pro 9 offers a good starting point for integrators building document management solutions while providing the ability to grow the solution as needed. The software also brings document control to key vertical markets, such as the legal, real-estate and investigation fields.
Printer-friendly version
Email this CRN article