Printer-friendly version
Email this CRN article
IBM Global Services and Novell SUSE intend to promote new products and programs to push Linux on the PC desktop from obscurity to reality.
At the first Linux Desktop Consortium conference, IGS said it is developing a comprehensive, general-purpose technical support program for the Linux desktop to replace what is now a custom service offered to only a handful of customers.
"Linux is ready to blossom on the desktop," said Samuel Docknevich, an IGS Linux Services executive, at the Boston-area conference last week. "Support is a big issue in the world of desktops. Big customers want Level 2 and Level 3 support. We're not there today but will be there next year."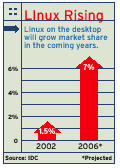 IGS's announcement comes on the heels of Novell's $210 million acquisition of SUSE Linux and its stated intentions to expand globally its channel and 24x7 tech support program for its Linux server and desktop products.
"Having both [IGS and Novell support programs] will make it far easier to recommend Linux as an end-to-end solution," said Chris Maresca, president of Olliance Consulting, Palo Alto, Calif.
Linux currently holds less than 2 percent market share of the desktop, but Novell and Red Hat executives confirmed they have significant desktop products under development. Novell's Ximian, for instance, will integrate Ximian Desktop 2 with Novell's forthcoming Linux file, print, messaging and directory services.
One leading voice in the open-source community said IGS's announcement,delivered with an illustration of a penguin biting the heels of Microsoft Chairman Bill Gates,shows that Big Blue is aggressively endorsing Linux on the desktop. "It's a substantial move for them, and it shows they expect Linux desktop to follow the same curve as the Linux servers," said Bruce Perens, a Linux/open-source activist who formerly headed up Hewlett-Packard's open-source effort.
Printer-friendly version
Email this CRN article