Solution provider recognized by Intel, CRN for medical imaging work
Printer-friendly version
Email this CRN article
A small Midwestern solution provider has been recognized by Intel and CRN for its work developing and customizing high-resolution imaging solutions in the medical market using standard technology building blocks.
Granite Microsystems, Mequon, Wis., took home Best In Show honors at the annual Intel Solutions Summit held here last week for systems builders and Intel's solution provider channel. The award is presented jointly by Intel and CRN.
Granite, which also builds solutions for clients in the test and data acquisition and industrial automation segments, provides built-to-order 2-D and 3-D medical imaging solutions, tapping into Intel's channel programs for additional support.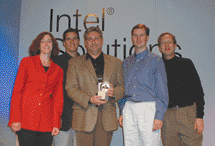 CRN Editor Heather Clancywith (l. to r.) Intel's Tom Kilroy, Granite award recipients Terry Manus and Clint Hanson, and Intel's Willy Agatstein.
"We've been able to utilize [Intel's] programs to design things at a much earlier stage compared to the market," said Hans Dittmar, marketing communications manager at Granite.
Dittmar made note of Intel's recent establishment of a health-care technology business unit aimed at providing IT solutions to a growing segment. The chip maker's ability to present a clear road map and provide prereleased Intel products for Granite to use in development has helped the solution provider roll out custom applications and hardware to clients, he said.
"Intel has put programs into a road-map scenario so you can design them into a medical product and have [system] changes less frequently," Dittmar said.
Intel executives said Granite was honored because of the obstacles it has overcome in a market that can be adverse to new technology, its ability to win large contracts and its ability to leverage Intel's channel programs for success.
Also at the event, Intel presented Premier Provider Integrator awards to Seanix Technology for the Pentium 4 processor; Avant Technologies for the Intel Desktop Board; Racksaver for the Xeon processor; Rackable Systems for Intel server products; California Digital Computers for server sales growth; Chem USA for the Pentium 4 processor-M processor; Germane Systems for Intel Gigabit sales; Rescue Systems for converged communications products; Loronix for overall sales growth; Alienware for greatest Intel product sales breadth; Seneca Data Distributors and Promicro Systems in a tie for best use of Intel Premier Provider Program; Mynix for most innovative design; Columbus Micro Systems for most innovative use of CCAP/Intel Inside program; Great Lakes Electronic Distributing for most growth in education sector; BCOM Computer Centre for retailer of the year; CGA Computers for rookie of the year; and Xtraplus for e-tailer of the year.
Printer-friendly version
Email this CRN article