Printer-friendly version
Email this CRN article
You have to see The Amazing Cash Contraption to believe it.
The Tropicana Casino in Atlantic City is using the flashy high-tech promotional tool to drive more traffic to its slot machines.
The contraption, created by integrator Database Solutions, is like some gigantic version of the old Mouse Trap game. The system couples laser lights and high-tech plasma displays with state-of-the-art industrial controllers, slot machines and a bowling ball,sometimes real, sometimes virtual,on a track that circles 281 slot machines.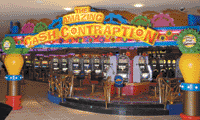 Wherever the ball lands, it "triggers events,sometimes mechanical devices, sometimes animations and displays," said Mike Hillman, manager of advanced technologies at Cherry Hill, N.J.-based Database Solutions.
Every 15 minutes, the system "randomly selects a slot machine, and if a qualified player is playing it, they are given a random jackpot amount, up to $10,000," said Don Kneisel, assistant vice president of Tropicana Casino and Resort.
A qualified player is anyone playing with a Tropicana "Diamond" card inserted in the machine.
The complex integration job required Microsoft Windows development expertise. Visio was used to create the electrical/electronic schematics, and Visual Studio .Net was called upon to tie the system together.
 

 ANATOMY OF A SOLUTION

>> COMPANY: Database Solutions
>> FOCUS: Twenty-five-year-old integrator specializing in building and deploying applications, databases and networks.
>> ANNUAL REVENUE: Not available; company is privately held.
>> PROBELM & SOLUTION: Tropicana Casino wanted to boost business at its slot machines.
>> PRODUCTS USED: Visual Studio .Net, Visio, AS/400. Allen-Bradley programmable controllers; collaborated with sound technicans and video-animation experts.
>> LESSONS LEARNED:
 • Management wanted to see a demo or prototytpe before it could fully understand what it wanted or needed.
 • Long-term client relationships paid off.
 • Specialized talents come in handy.
 
The project also required significant know-how in the decidedly un-PC-like world of Opto 22 and Allen-Bradley industrial controllers and data acquisition tools that run their own operating systems.
"You get [Database Solutions'] kind of expertise once in a lifetime," Kneisel said. "They have the Windows knowledge I needed and also expertise in ... the specialized hardware we use."
Hillman, with his background in manufacturing, data acquisition and industrial control systems, was the man for the job.
"We had to interface with NW Signs [Industries], which manufactured the animated sign portions of the device. They constructed the signage, and each sign section is controlled by an Allen-Bradley controller," Hillman said.
Along with the usual PC programmers writing the custom code underpinning the contraption's intricate connections, the integrator worked with three sound technicians and two video-animation experts to pull the project together. NW Signs also created the lighting and special effects.
Tropicana and Database Solutions go way back. The two collaborated last year on another Tropicana promotion called Gazillions that is still running.
Database Solutions was tapped for the casino's projects because of its Windows development expertise and its knowledge of the controllers so integral to the the two projects.
"Those controllers run specialized operating systems that a lot of people don't know," said George Brown, president of Database Solutions. "They have special interfaces, and in that world, a millisecond,the amount of time you measure,is very finite, and you have to deal with operating system constraints around timing. You're creating a visual, and you can't have momentary pauses ... [or] it would look like the bowling ball stops, and you can't have that."
In fact, the contraption is every bit as complex behind the scenes.
"The system uses our AS/400 for information and interfaces with the slot [machine] management system, which is a Unix system. [The contraption] interfaces to the lights on each slot machine and also to the contraption," Kneisel said.
Printer-friendly version
Email this CRN article