New entry-level Solaris, Linux servers to be based on Opteron
Printer-friendly version
Email this CRN article
Sun Microsystems and Advanced Micro Devices are hoping that two heads are better than one in their ongoing war with the Wintel duopoly.
The two companies have formed a partnership designed to attack Intel's Itanium and Microsoft's Windows platforms in SMBs up to the low end of the enterprise. The pact calls for Sun to manufacture entry-level Solaris and Linux servers based on AMD's 64-bit Opteron platform for Sun's Java Enterprise System and Java Desktop System applications.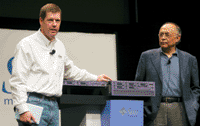 Sun's McNealy (l.), AMD's Ruiz tout their new pact at Comdex keynote last week.
Sun President, Chairman and CEO Scott McNealy teamed with AMD President and CEO Hector Ruiz at a keynote last week at Comdex Las Vegas 2003 to convince customers to use the platform to move to 64-bit computing while maintaining backward compatibility with legacy 32-bit applications, something they said is not possible with Itanium.
By working with Sunnyvale, Calif.-based AMD, Sun has an opportunity to gain traction against Itanium, said Shouheil Saliba, vice president of volume systems products marketing and strategy at Sun, Santa Clara, Calif. "A key reason is that customers require a forklift upgrade to Itanium," he said. "Solaris and Opteron allow a seamless upgrade from 32-bit to 64-bit computing."
Saliba said the resulting technology from the alliance will be available to any vendor looking to differentiate itself from the Wintel space, including white-box builders. "If Dell called, we would love to license Solaris to them on the Opteron platform," he said.
David Chang, CEO of Agama Systems, a Houston-based system builder that partners with AMD and Intel, said the alliance raises AMD's brand recognition and puts further pressure on Intel to remain competitive. "I see this as good for everybody because it creates an alternative to Intel that is an easier sell," he said.
Joe Serra, vice president of systems product marketing at Clearwater, Fla.-based Tech Data, which distributes Sun's entry-level servers and Cobalt appliances, called the pact interesting from a competitive perspective. "It's a bold move, but we have to see how it plays out," Serra said. "It all depends on [Sun's] level of investment and engagement in the channel."
Serra said Sun must drive up the "consideration rate" among solution providers, many of which are entrenched in IBM's xSeries and Hewlett-Packard's ProLiant servers. "Servers take a long time to gain traction; it takes a long time for [resellers] to test and choose which ones to install. You have to have a pretty compelling proposition to get solution providers to look at the new products," he said.
EDWARD F. MOLTZEN & JEFF O'HEIR contributed to this story.
Printer-friendly version
Email this CRN article