Printer-friendly version
Email this CRN article
Certification remains a key issue among solution providers when it comes to Linux's acceptance in the business market, according to data from CRN's Monthly Solution Provider Survey. Some 38 percent of solution providers cite certification as a significant obstacle, and another 33 percent cite it as a moderate impediment. These percentages have not changed significantly in recent months.
Certification is a more complex issue for Linux than for other technology areas because of the existence,and importance,of vendor-neutral certifications. Data from the recently released 2002 CRN Certification Study, for example, shows that certifications from the Linux Professional Institute top the list of certifications (in general) that are growing fastest in importance to solution providers. But vendor-specific Linux certifications, such as those from Red Hat, rank highly as well.
Once this issue is resolved, however, the way could be open for much broader acceptance of Linux in the business market. Survey data shows that solution providers view other factors, such as application availability and customer acceptance of Linux, as much less of an impediment to acceptance now compared with the beginning of the year.
Only 15 percent of solution providers surveyed in September said application availability was a significant roadblock, compared with 53 percent in December 2001. For customer acceptance of Linux, the figure in September was 14 percent, well down from 50 percent in last December's survey.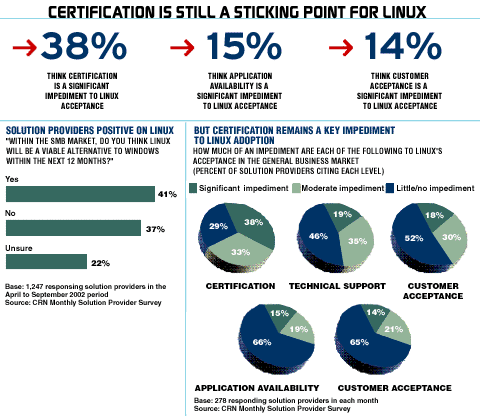 Printer-friendly version
Email this CRN article