This Week's Subject: Linux For Business
Printer-friendly version
Email this CRN article
Many of the key barriers to Linux's acceptance in the business marketplace are falling, according to CRN's Monthly Solution Provider Survey.
 

>> Linux continues to gain acceptance in the business marketplace, but solution providers say certification hassles remain an impediment for the open-source OS.

 
Over the past six months, significant progress has been made in areas such as training, technical support and application availability. The same is true in the critical area of customer acceptance of Linux as an alternative to other platforms, which has been perhaps the single biggest factor blocking Linux's move into the business market.
However, much less progress has been made in reducing Linux certification as a barrier to acceptance, with the percentage of solution providers citing this factor remaining about the same in June as in December. Vendor-neutral certifications will likely play a role in solving this problem, given the nonproprietary nature of Linux.
"Vendor-neutral Linux certifications help give me greater flexibility in providing solutions to my customers," said Anthony Awtrey, vice president at I.D.E.A.L Technology, a Linux solution provider in Melbourne, Fla. "No single vendor dominates the Linux market, so you have to be able to combine differing technologies into a single solution to be successful."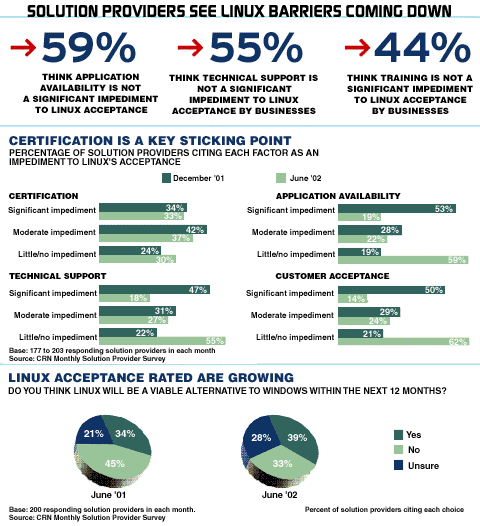 Printer-friendly version
Email this CRN article