Printer-friendly version
Email this CRN article
Microsoft is feeling the heat from Linux.
The software giant aims to fight the potential defection of customers and solution providers to the open-source platform, namely through a $500 million investment in its ISV and channel partners, said Chairman and Chief Software Architect Bill Gates and CEO Steve Ballmer at the vendor's annual financial analyst conference last month.
"We face many challenges on many fronts," Gates said, noting that IBM and Linux are his biggest concerns. "We're increasing our levels of investment. Hey, there's some risk in that. But it's a decision we made, and we're full-speed ahead in doing that."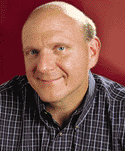 'This is a new world in which we don't always have the lowest-priced product.' --Steve Ballmer, Microsoft
Despite citing Sun Microsystems, Oracle and IBM as Microsoft's chief rivals, Ballmer singled out Linux as a big competitive problem. The CEO said he's "riveted" by Linux's low cost but urged channel partners to focus on product value to redefine the business proposition of Microsoft technology.
"This is a new world in which we don't always have the lowest-priced product," Ballmer said. "We have to push ourselves to be better. We want to win business vs. these [Linux guys, and we need your help up-selling against these guys."
Amid solution provider and end-user complaints about the cost of its new software licensing program, Licensing 6.0, Microsoft also plans to make significant investments in total-cost-of-ownership analysis and security features for its Internet Information Server (IIS) and .Net server line, according to company executives.
And in San Francisco this week, Microsoft plans to make its first official appearance at LinuxWorld, where it's slated to demonstrate new tools for developers and Windows-Linux interoperability with Windows Services for Unix 3.0.
In addition, Microsoft plans to discuss the total cost of ownership and business value of Windows and Office compared with Linux-based offerings, said Peter Houston, senior director of the Windows platform at Microsoft. Linux's reputation as a low-cost solution overshadows its high integration costs and lack of rich e-mail, wireless and mobility support and out-of-the-box solutions, Houston said, noting that the Windows-Office tandem is well-integrated and offers robust functionality.
A recent study by Microsoft shows a "remarkable similarity" in total cost of ownership over a two-to-five-year period, Houston said. "Linux has an advantage in acquisition costs, but when it comes to integration, management and administration, it's a wash," he said.
Printer-friendly version
Email this CRN article